Southern fried chicken. Chicken-fried steak. Heck, chicken fried chicken. Black-eyed peas. And of course, grits. (A Southron tells his Yankee visitor, "C'mon, y'all gotta try grits just once." The skeptical Yankee replies, "Uh…can I start with just one grit?")
The ubiquitous fried catfish is not my favorite. What is my favorite? The occasional whimsical appreciation of sinfully delicious foodstuffs.
Behold the health food display at an aisle endcap in a Publix supermarket in North Florida.  Who says doughnuts ain't good for you y'all?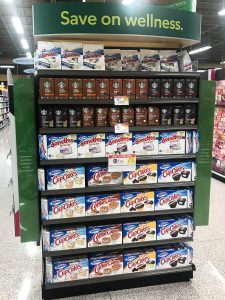 And I bet your kids would snack more on grapes if they, like these in an H-E-B grocery store in Schertz, Texas, were more appetizingly labeled.