Last week, the significant other and I spent a great week in Utah's beautiful Wasatch Mountains, teaching a MAG-40 class. We finished the week on Sunday at the Glock Shooting Sports Foundation (GSSF) match at the Kay Lee range in Salt Lake City.  Several of the teaching staff and the students came with us.
I was reminded that shooting is a relaxing sport. It was the closest to a vacation day that I'd had in a long time.  Met a lot of old friends there, and was able to introduce the attending students to one of the great figures in self-defense and officer survival training, Dennis Tueller.
As is usual at GSSF matches, both the Glock headquarters staff and the range officers there with boots on the ground were friendly, welcoming, and nurturing to new shooters and old heads alike.  I was very proud of how well my students did there, particularly my young protégé Tommy Nelson, who according to the preliminary scores won the Civilian class with stock guns shooting his Glock 17 9mm ( http://www.gssfonline.com/results/2014/2014sut.pdf ).  His lovely wife Danica (one of my graduates, I'm proud to say) came in third in the Glock Girls event, shooting in competition for her first time ever.  Tommy kicked my butt in at least a couple of the events there, and there's no better compliment a student can pay to his instructor than to beat him in the discipline being taught.
One of my recent grads brought his young son Josh with him, the first match for both. Dad and son shot the father's compact Glock 23 carry pistol with full power .40  S &W ammo…and each of them cleaned every steel plate rack with none left standing. Josh, you made us all proud.
My significant other, the Evil Princess, took high woman in her age class in Civilian, and second overall in the Glock Girls event, and beat most of the men with the subcompact .45s in Major Sub.  Me? The old guy here was a bit TOO relaxed and shot his worst Glock match of the year, but was able to salvage a couple of second places behind Bryan Dover, the current man to beat nationwide at this game, for which I was grateful.
We brought four Glock pistols to the tournament. She shot all her 9mm events with our Glock 17 RTF2 with Dawson adjustable rear/fiber optic front sights, and I shot all of mine with her Baby Glock G26 subcompact with AmeriGlo sights.  We both shot the Major Sub event with one of my stock Glock 30 sub-compact pistols with Trijicon night sights and 230 grain .45 hardball, and the Pocket Glock event with an out-of-the-box G42 Glock .380.
One of our companions noticed that Gail carried the 17 and the 42 to the firing line in a pistol box, while I came to the line with the G26 in a Mitch Rosen scabbard on my left hip, and the G30 in a Galco inside the waistband holster on my right.  He asked why.
I explained:
"Foxes carry Glockses in boxes,
"But oldsters use holsters."
Dunno if it's a Mars and Venus thing, but it was the best explanation I could deliver on short notice.
Civilian champ Tommy Nelson runs the camera and coaches wife Danica to a third-place finish. Note spent brass in the air as she fires Glock 17.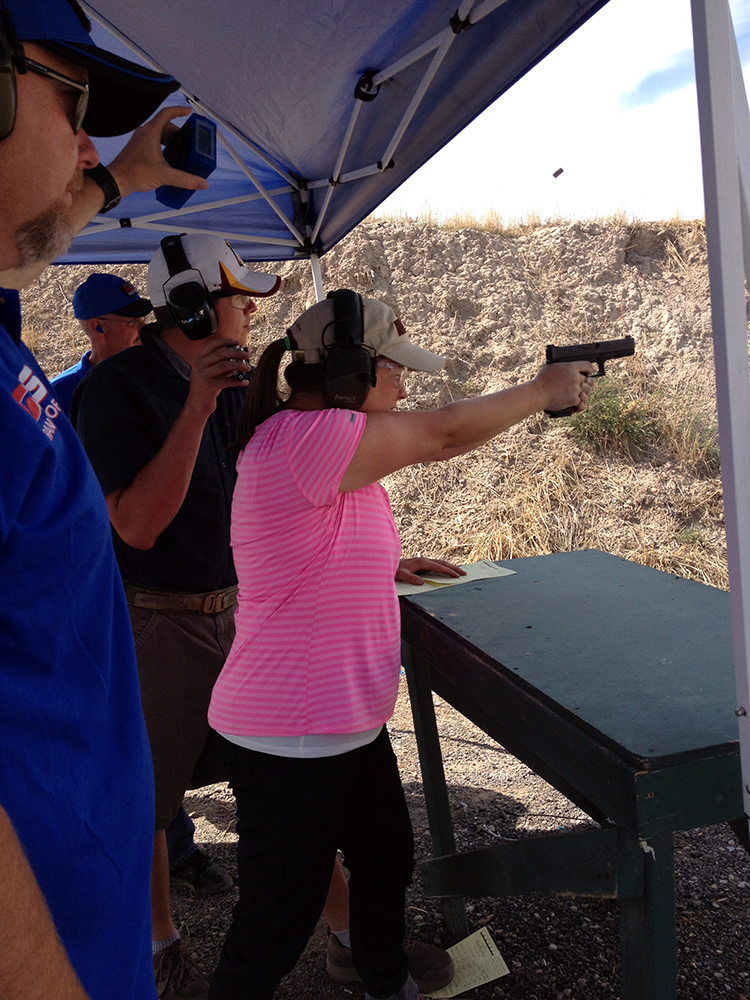 It was good to spend some catch-up time with old friend Dennis Tueller, right, whose officer survival research has saved many lives.