REUNION REVELATIONS: PART I
At Massad Ayoob Group, we finished the 2019 training calendar with our Ten Year Reunion. All attendees and all instructors were our past graduates, with some of the most distinguished in the field teaching four-hour blocs.
Among them were Tom and Lynn Givens. Tom was a champion shooter in his competition days and a big city cop before that, but one of his distinguishing claims to fame is many years teaching self-defense to armed citizens in the violent city of Memphis, Tennessee.  67 of his graduates have been involved in shooting situations.  64 of them won their gunfights.  None lost.  Three, sadly, were what Tom calls "forfeits."  They violated "the first rule of gunfighting," which is, "have a damn gun."  Caught unarmed, all three were involved in armed robberies in which they complied with the criminals but were unarmed and helplessly execution-murdered anyway.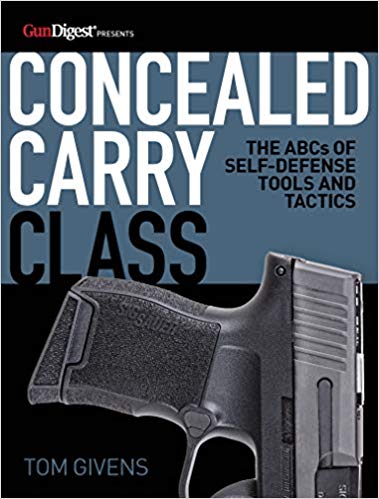 Tom and his lovely wife Lynn taught a bloc on combat shotgun. It began with a lecture on choice of gun and ammo. Tom prefers 12 gauge in general and Federal 00 buckshot with Flite Control wad in particular, noting that since that gauge has long been standard for police and military and by far the most common in civilian shooting sports, it has benefitted the most from shotgun ammunition advancements. He addressed, as I do, the falsity of the common suggestion of using birdshot for home defense. As Tom put it with his trademark no-BS pithiness, "Birdshot is for the birds."
We then repaired to the shooting range, where attendees did patterning exercises, rapid fire, speed and tactical reloading, etc.
Tom's newest book has just come out from the Gun Digest people. It's titled "Concealed Carry Class." I reviewed a pdf the publisher was kind enough to send, and I think it's excellent: strongly recommended! Tom and Lynn's company, Rangemaster, offers training nationwide: also highly recommended, and accessible through https://rangemaster.com/ .