At the Massad Ayoob Group Reunion last week, one of the featured speakers was Marty Hayes, who came about three thousand miles from his home turf at the Firearms Academy of Seattle in Washington to teach a double action revolver class. A firearms instructor since 1977, he observed, "The revolver is becoming a lost art. Many instructors who came up in the last fifteen to twenty years haven't developed revolver skills." A champion revolver man in disciplines from Police Combat (PPC) to various action shooting sports, Marty often packs a Smith & Wesson .357 Magnum by choice. He demonstrated expertly with one of his favorites, a three-inch barrel Model 13.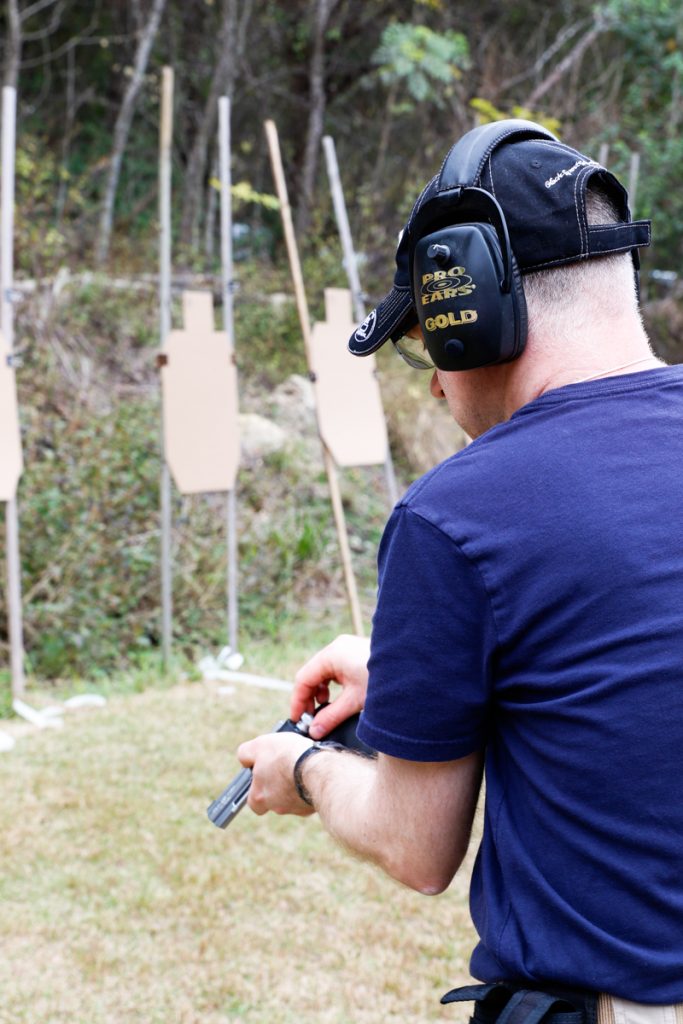 Pointing out advantages of simplicity of operation and ability to fire at press-contact defensive distance and more, he quickly addressed the double action revolver's shortcomings. Fewer rounds than in most semi-automatics, to which he responds with tongue only partly in cheek, "Carry two! Then you're balanced!" But, seriously, Marty showed the class several speed reloading techniques which help to level that side of the playing field. Harder recoil for the power level? "Yup. Use a really hard grasp." Harder to shoot for many because of the longer, heavier trigger pull? True again, and that's why Marty focused on trigger control in his four hour live fire presentation.
For serious business, Marty favors a single-stage straight-through pull on the long double action trigger, and explained why contacting the face of the trigger with the distal joint of the index finger affords more leverage and better control. He introduced them to the old two-stage pull, in which the finger brings the cylinder around to bolt lock with the hammer back, then squeezes off the last few pounds of pressure: basically, "trigger-cocking." He recommended it only for long-range precision shots, particularly if the revolver shooter was having trouble with that kind of surgical shot placement at distances.
Hayes is also the founder of the Armed Citizens Legal Defense Network (www.armedcitizensnetwork.org), the first of the post-self defense support organizations. (Total disclosure: I believe in ACLDN so strongly that I'm on the Advisory Board.) Not insurance, but an educational and mutual support entity to handle legal bills if a justified use of force turns into an unmeritorious homicide or assault charge. Some 23 cases have now been handled, all with satisfactory outcomes. Firearms Academy of Seattle not only offers great training from Marty and his staff, but hosts outside instructors: I've taught there annually for about three decades, and this summer FAS will host the Pacific Northwest Rangemaster Tactical Conference, which is not to be missed.