REUNION REVELATIONS PART III: THE FACE OF THE ENEMY
It's about that time of year when all bloggers offer up Merry Christmas posts. OK, here's a Christmas present for you: some nuggets of solid gold from Dr. William Aprill's presentation at our Massad Ayoob Group Reunion in early December. William is a former cop, long since a psychologist, and deeply experienced with analyzing both victims and perpetrators. His message was so important we put him on the schedule twice: Once on how predators select victims, and again on what might be called "the face of the enemy." Some of those nuggets:
"Random acts are opportunistic. A man trying each car door he comes to is systematic, not random. Most criminal repertoires are far from mindless. Suitable target + inefficient guardian = crime," William explained.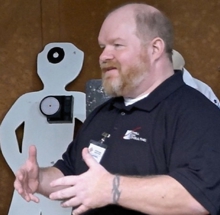 Dr. Aprill: "Rapists are looking for passive and submissive victims. Rapists love to talk about themselves. One told me, 'Ya gotta find one who'll go easy.' Another liked to walk up to couples, take them at gunpoint, and rape the woman in front of the man. The rapist had done this to one couple and the intended male victim, a doctor I actually knew, drew a gun on him and the man fled. I asked the man why he ran away and didn't try to shoot the doctor. The rapist answered, 'I didn't want trouble, man.'"
Aprill advised, "Focus on not being chosen. They look for 'babyfacedness' because youth implies inexperience. They watch for what our colleague John Farnam calls 'dithering.' Predators select victims who appear distractable, scattered, multitasking. Someone who might be susceptible to 'Let me help you with that.' One of my patients was raped and beaten into a coma in her own home. She said her attacker seemed 'playfully aggressive' as he took the bags out of her arms, a clean-cut guy in button down shirt. He carried her stuff to her car and asked, 'So, where do you live?' She reflexively told him the area, and he said 'What a coincidence, I live near there, can you give me a ride home?' She didn't want to take back trust she had extended…"
Doesn't sound very Christmas-y? Consider…
In a season where a byword is "Peace on Earth, good will toward men," we would all do well to remind our peaceful loved ones that not everyone around them bears them that good will.  Whether you believe it was God or Nature who gave you life, that life is your most precious gift. Guard it cautiously, and teach your loved ones to do the same. It would be a potentially life-saving Christmas gift to send your loved one to one of Dr. Aprill's famous lectures: https://aprillriskconsulting.com/ .
I – and William Aprill, and all who were involved in the undertaking we're talking about here – wish you and yours a safe, peaceful, and indeed joyous Christmas.