I've saved for last the course that was presented first at the MAG reunion: a full Stop The Bleed™ class, with certification, taught by veteran paramedic and paramedic instructor Stacy Kitchens. In some ways, it was the most important. A SWAT medic among other duties, Stacy is one of our regular adjunct staff people and has extensive experience in the field treatment of gunshot wounds and other life-threatening trauma.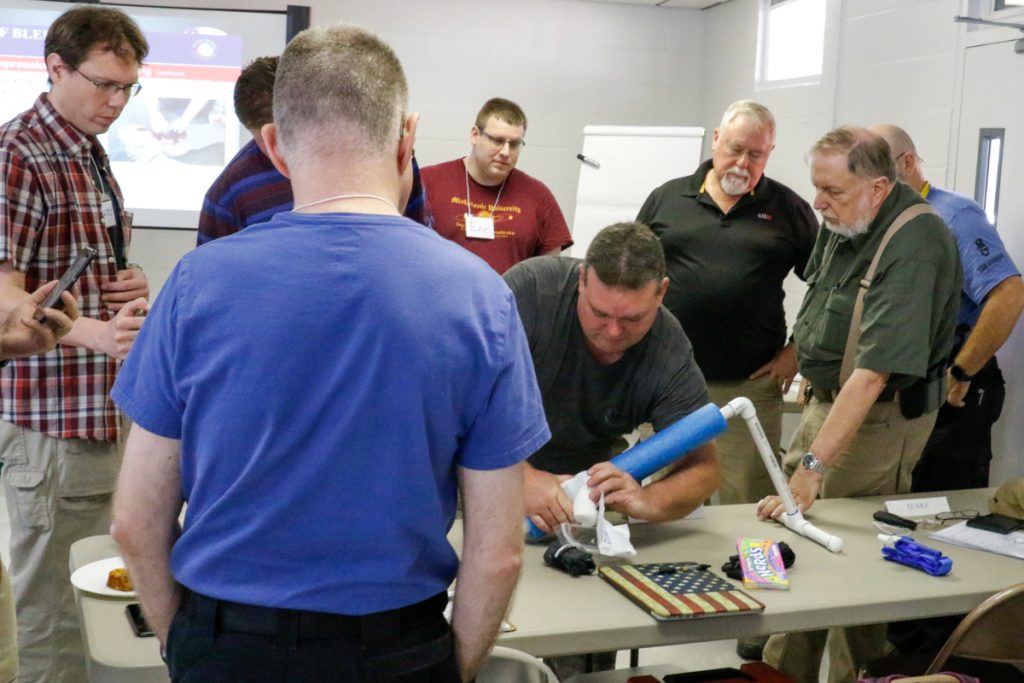 We keep a full trauma kit on the range with us at all times, including an automatic electronic defibrillator. I remember the gentleman who "dropped dead" at a shooting match I attended in while still in my teens. Nothing like that was available for ordinary folks acting as first responders then. He didn't make it.
And it ain't just for the range: we keep all the same gear in the car. The Evil Princess, a retired RN, generally has her tourniquet/field dressing/Quickclot™ on her person in an ankle rig. We carry guns in case we have to deal with someone trying to kill us or another innocent party. Even if we prevail against him, he may have already harmed at least one victim. The emergency medical service is hampered by the same laws of time and space as the police service, and often, the citizen on the ground where it happens is the only one who'll have a chance to save a fading life…if that citizen is both trained and equipped to deal with the problem.
And of course, it's not limited to combat situations. Even in recreational shooting, we have to remember that we're handling dangerous equipment. Accidents happen. The injuries are similar, however they may be inflicted.
And it's not limited to guns, either. The one time I had to give CPR was in a big city train station. If you are in a rural area, remote from emergency medical service, ask yourself how often you and yours are exposed to major trauma. Accidental impairment. A slip of the ax or the chainsaw. A bite, kick, or goring inflicted by livestock or even family pets and working animals. The principles are the same.
When any of these things happen, we may be the victim, and alone. Stacy Kitchens paid particular attention to self-application of the tourniquet and everything else.
Stacy is a great instructor. As I recall, the critiques by the attendees gave him full "tens" across the board. His knowledge is something everyone reading this needs.