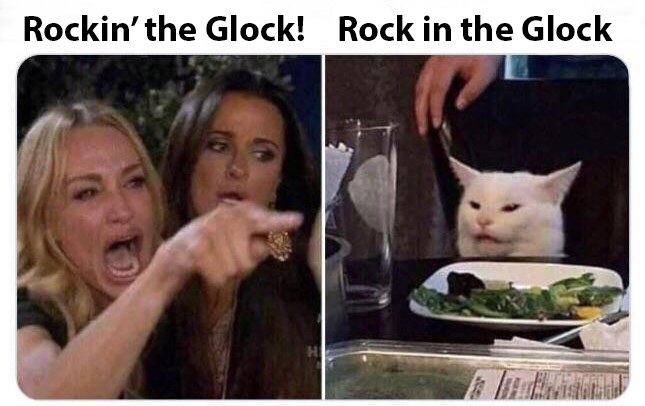 No, folks, the old guy here didn't mess up his punctuation. (Not this time, at least.)
Last weekend I was shooting a Glock match (Glock Sport Shooting Foundation, www.gssfonline.com) and when I loaded my G42 .380 to shoot the Pocket Glock division, the trigger didn't re-set forward to ready-to-fire condition when I chambered a round. Whisky Tango Foxtrot? I cleared the gun, the range officer and I checked it, and it definitely had a dead trigger. My shooting buddy David Rodgers volunteered to take it to the on-site Glock Armorer while I shot something else, and was kind enough to do so while I shot my next division, Rimfire, with the new Glock 44 in .22 Long Rifle.
When he came back with the bagged pistol, David told me with a big grin, "Rock in the Glock."
I heard "Rockin' the Glock," which is a younger shooter's term for those of us who carry and/or shoot Glock pistols, and looked at David quizzically: Hell, everybody there was "Rockin' a Glock."
Dave shook his head. "No," he said. "Rock. In. Your. Glock."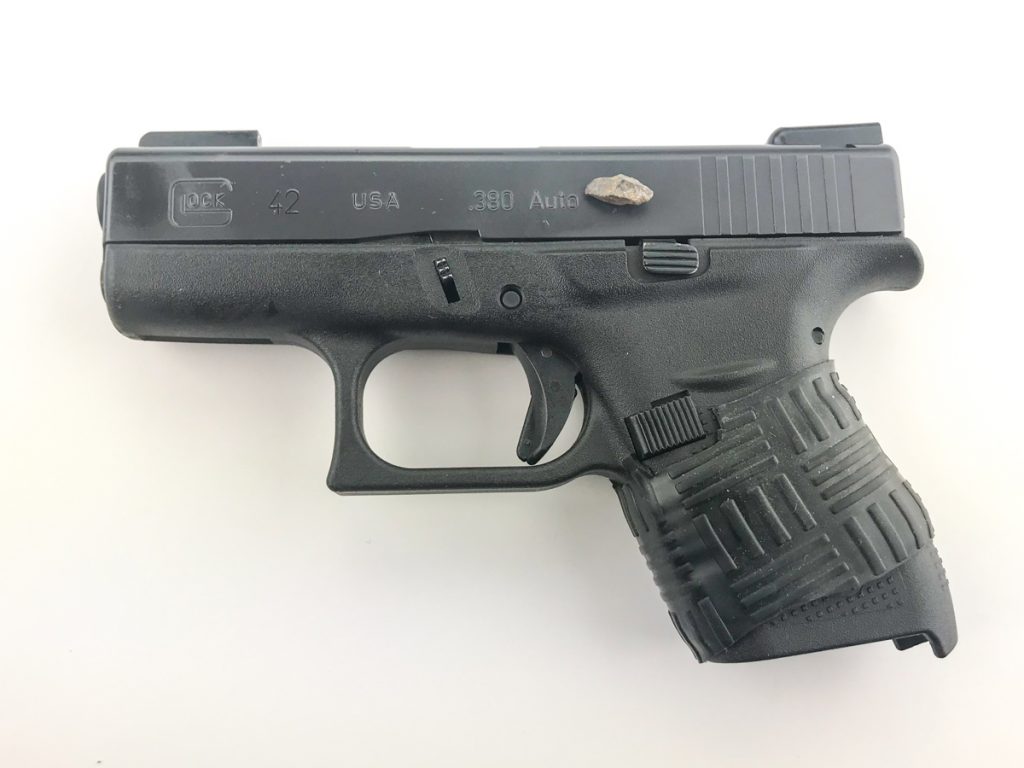 And he showed me the pebble the Master Glock Armorer had removed from the disconnector.
My lovely bride and I are still trying to figure out how the Hell that happened. She's involved because she's an Advanced Glock Armorer, and my own armorer's certification with that platform has long since lapsed. In our house, she's the Glock Nurse. If cars were guns, I'd be a driving instructor and she'd be a chief mechanic.
Now, the Glock pistol is one of the most reliable firearms in the history of weaponry. She and I use that little .380 these days only for Pocket Glock events, a few of which I've been lucky enough to win. It lives in the safe and travels to the range in a zippered case inside an enclosed roller bag. She routinely checks our competition Glocks before matches, but was absent this time caring for a sick relative. How that pebble got in the Glock's mechanism I'll probably never know.
But I do know the lesson. Folks I shoot with tease me that I never clean my match guns or recreational guns until lower life forms start evolving inside their neglected mechanisms. I once let a Springfield Armory XD(m) 5.25 9mm go three thousand rounds plus without cleaning it, which it survived without mechanical malfunction, which was the purpose of the exercise.
My defense guns, however, get inspected monthly. A trophy on the line is one thing. Life on the line is another. The defensive firearm is a life-saving emergency rescue tool. Treat it the way a firefighter treats his or her equipment: if they're not using it for its intended purpose or training with it, they're inspecting and maintaining it. The Glock Nurse would have caught the pebble if she'd been home. She wasn't, and I didn't take up the slack, and was lucky to have caught the problem when we did.
Don't make the mistake I did.