RUNNING WITH THE BIG DOGS
One of the things I love about shooting is that, in many respects, it is the most egalitarian sport. Millionaires shoot alongside laborers as equals. All the color lines are crossed, and the gender lines too.
Another rare element we find in competitive shooting is that us ordinary puppies are allowed to run with the big dogs. Few of us will ever golf against Tiger Woods, or race against Jimmy Johnson in NASCAR. But, by God, we can shoot in the national championships against the best our nation has to offer, across all the rifle, shotgun, and handgun disciplines.
A couple of weeks ago I had the pleasure of shooting the National Championships of IDPA, the International Defensive Pistol Association. This is the "concealed carry sport," in which you have to draw a more or less stock combat handgun from under a concealing garment, and then shoot several stages of what might be called replicated defensive gunfighting scenarios. At this match, held in Allentown, PA, start positions ranged from lying in bed with the gun on a nearby table, to sitting in a chair, to astride a two-wheeler. Electronic timers tick silently and ominously behind you as you draw, shoot, take cover at various positions, reload, and shoot some more. Fastest time wins, with every point down from a perfect score adding half a second to your time.
Contestants have a choice of five divisions, determined by type of gun, and in all of them they have a crack at separating the crème de la crème from their national titles. The beauty of it is, gun people being the good folks they are, it's a win-win situation. If you win, you "live the dream." If you don't, you got to shoot pretty much side-by-side with fine human beings you are proud to have as the champions of your chosen sport. Egotistical prima donnas are, thankfully, very thin on the ground in the shooting world.
If you favored a single action .45 auto like the 1911, you had to beat David Olhasso, who successfully defended his title this year in the Custom Defense Pistol division using a modern Smith & Wesson Military & Police .45. I don't know David well, but I do know he is universally respected in the shooting community. If you prefer double action semiautomatic pistols in 9mm or .40, your division is the most popular one, Stock Service Pistol, which this year was won by Dave Sevigny, with a 9mm Glock 34 pistol. Dave is a humble, friendly young man, self-taught, whose story belongs in Reader's Digest every bit as much as it does in gun magazines. David brought himself to the pinnacle by virtue of hard work, dedication, and self-discipline, and never has allowed it to swell his head. His score this year was the single best one posted.
If you choose a single action pistol in a medium caliber, such as a Browning Hi-Power, your division is Enhanced Service Pistol…or you can shoot a stock service pistol there, too. Rob Vogel took that route, shooting a Glock 34 to win the division. I first met Rob at the Midwestern Regional Championships in 2005, where I won the Stock Service Revolver title and he captured Enhanced Service Pistol and the overall match. I didn't get any better in the interim, but he sure did. Rob is a career cop, and those who live where he works should feel all the safer when they sleep. Vogel travels to matches with his lovely young wife, who's as friendly and free of conceit as he is.
If you've watched the "shooting shows" on cable TV, you've seen the awesome feats of Jerry Miculek. He may well be the fastest man with a double action revolver who has ever lived, and Jerry used one of his trademark guns, a Smith & Wesson Model 625 .45 six-shooter, to win the title in the Enhanced Service Revolver division. He repeated as National Champion there this year. They call this Louisiana man the "Ragin' Cajun," but he's one of the finest and most soft-spoken gentlemen I've ever met in the gun world, which is so densely populated with such gentlemen. Those of us who've competed with him will tell you that it's like arm-wrestling Superman, but will also tell you that Jerry is a super man. I've been proud to call him a friend for about a quarter century.
Another super man was the one I was after, the long-reigning champion of the Stock Service Revolver division, Curt Nichols. I first met him at the 2006 Nationals, where I noticed two things: his blinding speed with a Smith & Wesson .357 Combat Magnum, and the kind patience with which he helped all the competitors, including the ones seeking his title, through the stage he was running. Yes, you heard me correctly. Alone among the national champions, Curt devotes his time to working his butt off and supervising a stage at each such match, and does so with exemplary fairness.
In this great country, most any of us can run for President; we just ain't guaranteed the victory. Same with shooting against national champions. Try as I might to unseat Curt, I got my backside handed to me on a silver platter. I was able to shoot a little more accurately than he, with fewer points down, but he shot so much faster that he left me in the dust. I only beat him on maybe three of the seventeen stages, and my condolence was that no one else beat him either, and Curt retained his well-deserved National Champion title. I learned at the Nationals that he is deeply involved in HAVA, a group that works for the benefit of handicapped American veterans.
I'm proud to have such men as the champions of my chosen sport. And, such women: this year the National Champion IDPA female is once again Randi Rogers, a young woman who made her first splash in the shooting world by outgunning every male on the ranch at the National Single Action Shooting Society Championships to win the overall title. She won with a Glock 34…and with skill, style, and grace toward those she had defeated.
It's wonderful to be able to compete against national champs. It's at least as wonderful to know that they are the fine people they are, the exemplars of the sport and the lifestyle that so many of us have chosen.

Curt Nichols, National Stock Service Revolver Champion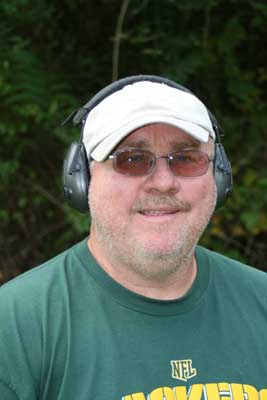 Getting to shoot with great people is part of the competition experience. Back row: Massad Ayoob with Fernando Coleho, Tom Yost, and Robert Vogel. Front row: Super Dave Harrington, Tammy Sharp all of Team Elite.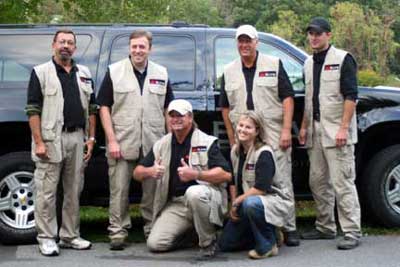 The Glock 34 9mm pistol was the choice of national champs Randi Rogers, Dave Sevigny, and Robert Vogel. This one is fitted with Tritium Fiber Optic sights and Tac-Grips.