Heading home from a class near Austin, Texas the Evil Princess and I got hungry not too far east of Houston.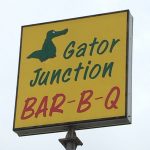 We wound up at Gator Junction Bar-B-Q , at the Turtle Bayou Turnaround (love that address!) off Interstate 10 in Wallisville.
It's a little bitty restaurant…it's a store…and it's a trip back in a time machine.  She and I love those mid-20th century eateries.  We sat on wood as stuffed critters looked down on us from the walls.  We meandered among the antique decorations.  And we enjoyed scrumptious brisket.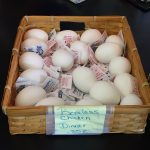 During the meal, she caught up with her iStuff, and I perused a 1950 edition of LIFE magazine that I'd bought at an antique shop in Giddings.  It seemed right, somehow…
How about y'all?  Got any particular favorite stops on America's roads that make you feel as if you've gone back in a time machine?