Last week I was up to my butt in lawyers with legal cases I'm working on across the country, and this week the same, so last weekend I needed a little respite. On Sunday I took the fox and a box o' Glocks to the Glock Sport Shooting Foundation (GSSF) in Orlando, Florida for a little R&R. They have matches for service/home defense pistols, "baby Glocks," and a separate category for the target model guns, which can be tricked out with recoil compensators, red dot optical sights, and all that. Most of the shooting, though, is done with ordinary pistols with regular sights.
At 591 entries over two days, the Central Florida Rifle & Pistol Club set a record for attendance in the several years they've been hosting these matches. Chris Edwards of GSSF told me that in the past year, attendance has been increasing greatly all over the country. I think one reason is the relaxed atmosphere of the matches, and the format: you shoot at your own speed, and Master shooters are separated into their own category so sharks don't prey on minnows. You can download the rules and the course of fire at www.gssfonline.com.
Emphasis is on accuracy more than speed, which is more complicated than it sounds. Each stage of fire is electronically timed from start signal to last shot. Every point down adds one second to your time, and a missed target costs you a ten second penalty. (You can fire extra shots to make up for a miss on steel targets, but not on paper targets, and you have a finite number of shots allowed.) Basically, it's a "make every shot count" game, but that said, it's the fastest time that wins. Easiest explanation is: it's won with speed, but it's lost with poor accuracy. There are special awards for Guardians (military, cops, other public safety personnel); junior shooters; women; the physically challenged; and even us geezers, though Master shooters can't compete for those special awards. They give away tons of guns as prizes, and just belonging to GSSF allows you to buy one Glock pistol a year at "police discount price," which makes the membership fee a helluva good deal.
I got to meet old friends, make new ones, and just have a great time. Shooting gets your mind off things via the same mechanism as extreme sports: the focus on safety and performance has to be so total that everything else is pushed out of your mind. That's what makes it so refreshing and relaxing, as well as fun…a point that lots of people who don't understand the "gun culture" miss.
Preliminary scores indicate I came in second in MajorSub category (for large caliber subcompact pistols such as my favorite Glock, the G30 .45), though I tanked in the 9mm divisions. But I came home to fly out the next morning for a deposition in New York City feeling rested and copacetic, and that's what recreation is about: getting you cleansed for a while of the hassles of daily life and work, so you can go back and perform your mission better, and keep the cycles of life and purpose going. Kudos to Mike Ross and his CFRP team, and the other GSSF hosts nationwide, and Chris Edwards and the rest of the GSSF staff for making this well-conceived shooting sport available to all of us.
The timer is running and the brass is flying as USAF pilot (ret.) Dave Blazek blazes a winning Guardian score with his Glock 17.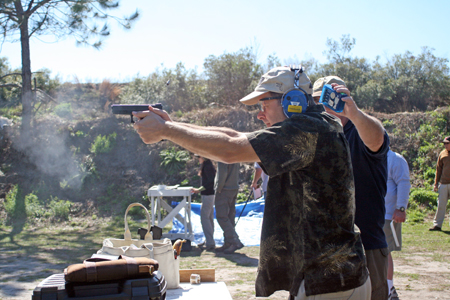 Shooting right to left, Gail Pepin strafes down the falling plates with a 9mm Glock.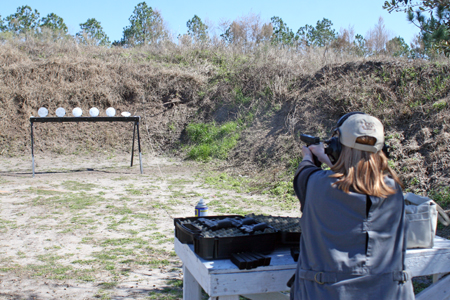 Mas runs MajorSub event with .45 caliber Glock 30SF.