SHOT week finished today, leaving a lot of exhausted people after the miles of aisles. While AR15 sales have softened since we learned in November that Hillary Clinton wasn't going to be in charge of anything, sales in general are still good and the firearms industry is overall in optimistic mode.
SHOT sponsor NSSF, the National Shooting Sports Foundation, announced today, "Industry professionals packed the aisles from the opening bell, and attendance totaled nearly 65,000, surpassing last year's turnout to make it the second most attended SHOT Show ever."
My editor and old friend Roy Huntington opines that with gun-banning pressure from the White House turned for at least four years, shooter folk are turning more to recreational firearms. This year's Show certainly featured lots of traditional double barrels, sporting rifles, and John Wayne-esque lever action rifles and single action revolvers.  Double action revolvers are coming back strong, with entries from Colt as mentioned previously, Smith & Wesson, and Ruger.  The latter just before SHOT announced a Redhawk snub-nose that holds eight rounds of .357 Magnum and a five-shot, three-inch barrel GP100 in .44 Special. You can read my take on the latter here. At a writer's intro last September at the fabulous FTW hunting and shooting ranch in Texas, Ruger had an impromptu match in which we all shot these two powerful wheelguns on bowling pin tables. I had the good fortune to win, followed by Tamara Keel of Shooting Illustrated and Gail Pepin of the ProArms Podcast. (That told me two things: double action revolvers can be very amenable to the female of our species, and I was apparently in touch with my feminine side that day.)
A high point of the show was touching bases with many old friends and colleagues, a few of whom appear below.
It had been years since I'd seen Bruce Gray, whom I shot with on the first Team HK back in the day. Bruce and his GrayGuns firm are the acknowledged masters of tuning HKs and SIGs, and he consults for the latter company. Bruce has done a lot to publicize SIG's relatively new P320, just adopted by the US Army as announced during the SHOT Show.
Anthony Spitale, left, gets a lot of the credit for Colt resurrecting its iconic double action revolver this year. Mark Redl, at right, is another Colt exec whose deep knowledge from the end user perspective has been invaluable to Colt. He and I shot together for Team Panteao not too long ago.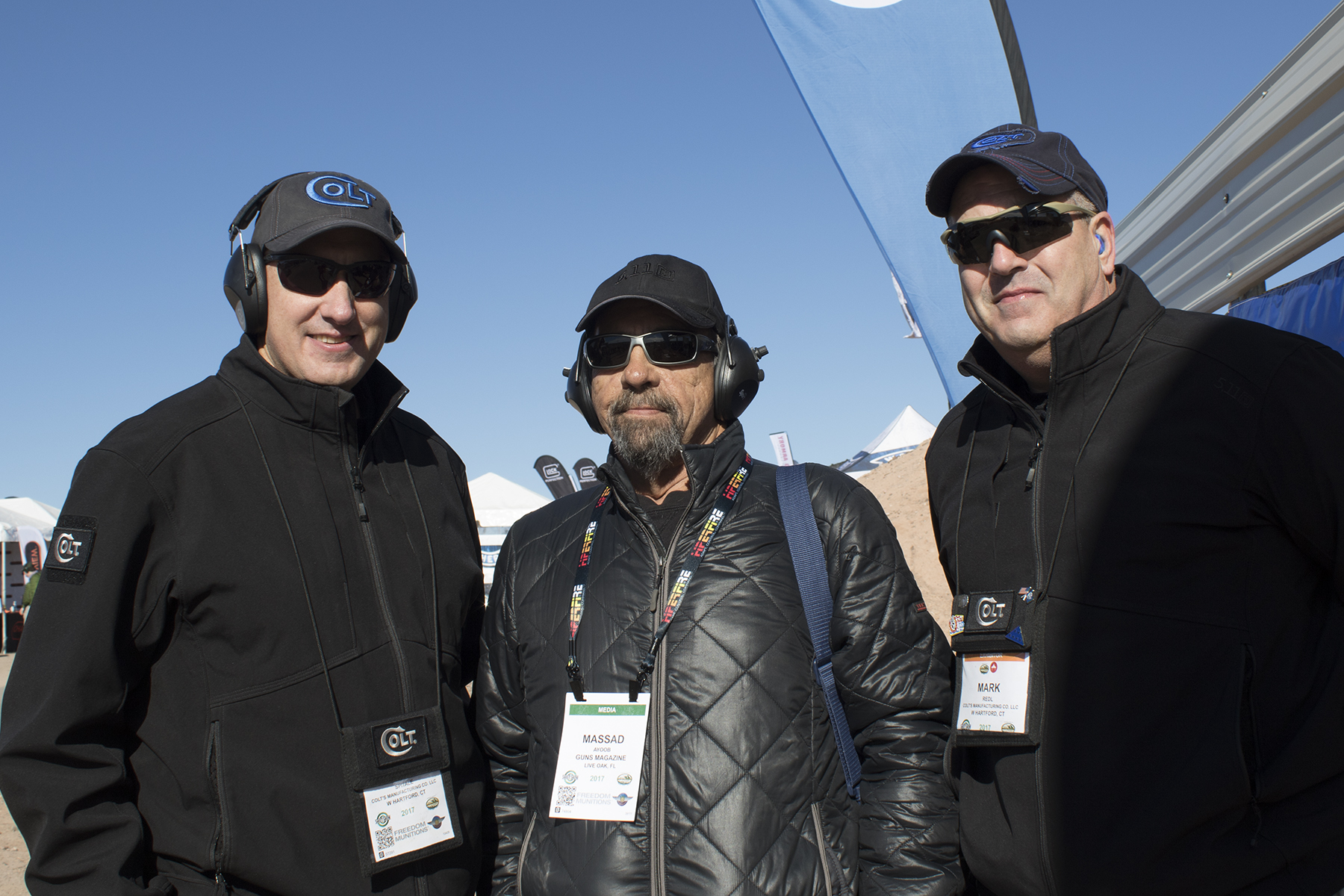 Dennis Reese, honcho at Springfield Armory, showed me their new economy version of one of my favorite guns, the little EMP 9mm subcompact 1911 they introduced back in 2004.  It shoots very well and will put this great concept in the holsters of more good people.