On the official opening day of the show, we found the aisles at the Sands Convention Center absolutely packed.  More cool stuff than I or any other single person can check out.
There were cool little shotguns. Mossberg has a new slide action for smaller-statured folk that isn't just shortened, but is scaled down overall. The Model 510 Mini Super Bantam weighs only five pounds, if that. It will be available in .410 and in 20 gauge. Recoil might get a little snappy in the latter chambering with a gun this small, but I'm looking forward to getting one for testing. Benelli has an elegant new autoloader called the Legacy 28. It's chambered for the 28 gauge shell, and advertised as "the lightest semiautomatic shotgun in the world," with an unloaded weight of about five pounds.
A Colt exec told me that rumors of a new double action revolver from this fabled old company are false…for now. He indicated, however, that both plans and equipment are in place for this to happen, somewhere down the road.  My fellow gun writer Wiley Clapp was at the Colt booth, justifiably proud that he had convinced the company to bring out a Series '70-type Lightweight Commander .45, a popular model that hasn't been offered since the early '80s.
Discussions with ammo makers and distributors indicate that the tremendous shortage won't ease any time soon. Military demands have been massive. European governments have realized that, with a commitment in Afghanistan and Iraq, the US won't be able to come to their aid if needed any time soon, and are building up small arms ammo inventory at a pace not seen there since the Cold War. This is why European ammo sources have largely dried up on the American market. Clay bird shotgun loads are available in abundance…everything else seems to be still in short supply, and is likely to remain so for some time to come.
SIG has a really neat little .22 Long Rifle version of their military-style semiautomatic rifle. Haven't shot it yet, but those who have tell me they love it. The company has also upgraded its Classic line of semiautomatic pistols, and tweaked their polymer P250 series of "convertible" semiautomatic service pistols.
Uberti has introduced a cool replica of the 19th Century Remington Rolling Block. Their quality control has improved by leaps and bounds since Beretta took ownership.
Will report on more tomorrow as the world's largest firearms trade show continues.
Author, center, gets to hang with cool people at SHOT. Left, Kenn Blanchard, author of Black Man With A Gun and producer of the Urban Shooter podcast; right, Steve Denney of Pro-Arms Podcast.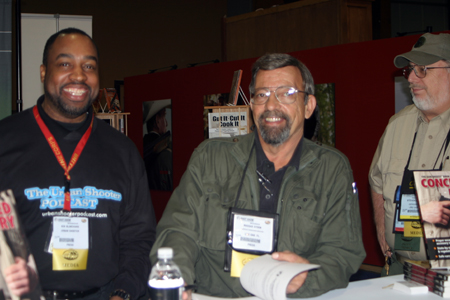 At a book signing at Krause Publications booth, Ali Palmos of International Supplies thanks Backwoods Home for enthusiastic response to their Wounded Warriors raffle. There's still time to enter: see 1-11-10 blog entry or click on January 11 in the calendar to the right.
Wiley Clapp at the Colt booth, with the new update of the classic old-style Colt Commander lightweight 1911 .45 auto, under the plastic bubble.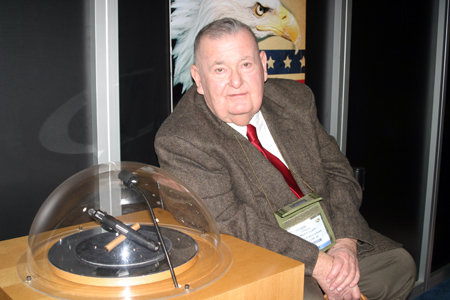 Chris Gosselin of Mossberg shows off the scaled-down 20 gauge pump his company has just introduced, the Model 510