Outside news pervades the Show. A local Las Vegas man shot and killed a home invader who kicked down his door. No charges filed, but one local news station calls it "the 14th murder of the year" in the community. (?!?!?) FBI arrested over 20 firearms industry people in a supposed sting that came out of an undercover investigation involving bribery of a foreign official in regard to a foreign government weapon purchase. I have heard a barnyard colloquialism for poultry feces applied to this case more than once here. And the announcement last night that Republican Scott Brown had won the Senate election in Massachusetts occasioned many a high five out here.  Now, back to the guns…
FNH announces a semiautomatic "sold to civilians" version of the SCAR rifle in 5.56mm NATO, and SIG has their own well-done take on the AR15 in the same chambering, new for this year. The many backwoods home folk who've bought a Ruger Mini-30 in 7.62X39 can now get the useful 20-round Ruger magazines for it, at long last. Ruger also has a double action GP100 7-shot revolver and an 8-shot single action Blackhawk chambered for the .327 Federal Magnum round. Their Standard model .22 auto pistol, a staple in rural home armament since 1949, can now be had with 1911-like checkered walnut grip panels…a nice, proven look for a nice, proven firearm.
The super-popular Glock pistol is now available in Generation Four configuration, initially in calibers 9mm and .40 S&W. Its grip frame is smaller from the backstrap to the trigger, fitting smaller hands better and giving improved trigger reach. Two spacers pin on to make it a little bit larger or, with the last spacer, even bigger than standard to better fit large hands. The magazine release is now reversible for left-handed shooters and in a more easily-reached and –activated configuration. Finally, a double captive recoil spring (which can't be retrofitted to earlier models) is said by most who shoot it to dramatically reduce the felt recoil of the Glock .40.
Taurus has its new slim-line 9mm pocket pistol and micro-size .380 mentioned earlier in this SHOT Show blog series. I didn't get to shoot them, but IDPA Five-Gun Master Jon Strayer did, and he likes them; his word carries a lot of weight with me. Most visibly on display were still more variations of the phenomenally successful Judge series of revolvers with lengthened frames and cylinders that can fire either the .45 Colt revolver cartridge or a .410 shotgun shell. The one that intrigues me most is the new carbine-size revolving shotgun. With a shield at the front of the cylinder to keep gas blast from burning the forward hand's wrist during firing, it has a wooden fore-end and shoulder-stock. This allows its fiber-optic sights to be held rock solid on target as you double action five shots as fast as you can pull the trigger. I don't see it so much as a defense gun as a super-cool .410 for pest shooting on the farm. It's available with a rifled barrel for solid single projectiles, and as a smoothbore for birdshot and buckshot. The latter should hold a pattern much better than the spray of shot that normally emerges from rifled barrels.
I had the honor of meeting Ed Pepping, one of the heroes whose story was told in "We Who Are Alive and Remain: Untold Stories from The Band of Brothers." He was kind enough to autograph some copies of that book that I'll give to buddies of mine. Thanks to the SOD folks (www.BUYSOURCEONE.com) for hosting him. At 87, Pepping has a steel-strong handshake and a mind to match. Thank God for him and his generation…and for the current generation of America's warfighters, many of whom were present at the Show.
From Taurus…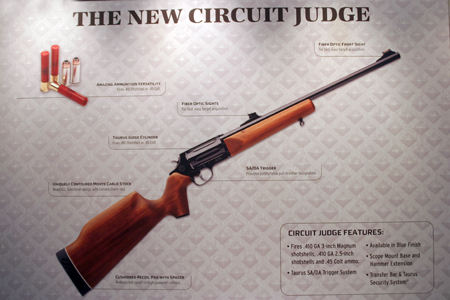 Blast shield at front of cylinder protects shooter's forward hand on the newest configuration of the Judge, below.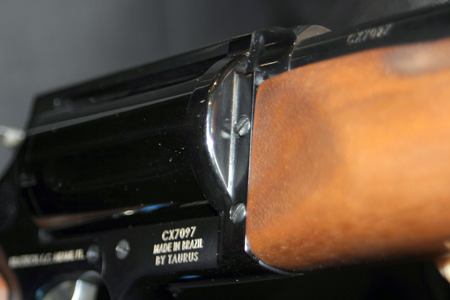 The configuration of the 4th Generation Glock, below.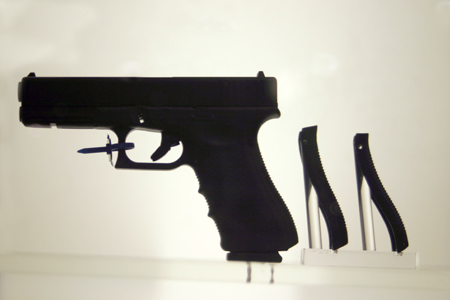 A great American at 87!