The SHOT Show – 4 days for attendees, 5 days for media, who get in a day early to debrief gun engineers and test some of the new firearms on various ranges in the host city – is over, and no one who attended is complaining. On the shuttle bus back to the hotels, almost everyone spoke of exhaustion. The "miles of aisles" of concrete floors are not conducive to the physical comfort of graying gun guys and gals. It ended today, Friday, an hour and a half earlier than the rest of the week. When they dimmed the lights to signal that 4 PM had tolled, a cheer went up through the vast convention center.
At Remington, the unprecedented demand for mainstream caliber ammo has kept their new .30 load for their (A)R15 from achieving the popularity many expected when that gun debuted last year. Remington epitomizes an industry year that's more evolution than revolution. There are new variations of their Model 700 bolt action centerfire rifle (5 million now produced) and their Model 870 slide action shotgun (the 10 millionth produced this year). The company is putting more emphasis on classical "blue steel and walnut" treatment of such arms as their popular, efficient Model 11/87 autoloading shotgun, a move that pleases this old traditionalist's heart. On the new side, their recently introduced Model 887 Nitro Magnum pump designed to take the 3.5" 12 gauge shotgun shell can give you the same amount of lead in the air as two standard 12 gauge shells at once with a single pull of the trigger, and is now available in a very nice (and affordable) Tactical version.
Returning to SIG, one reader touched bases to ask me just what "tweaks" (mentioned in an earlier blog post) that company had applied to their P250 US-made pistols. Well, they're selling kits now with two different size guns sharing a single fire control group: effectively (and legally) two guns in one. They have another P250 variation with an ambidextrous manual safety. Finally, the company is working on a striker-fired version because some police departments are now specifying that design in mass-purchase bid requests. I like striker-fired pistols; in recent years, I've carried the striker-fired Glock more than any other gun, and am wearing one or two Glocks this week because tomorrow will find me relaxing and recovering from the trade show at a Glock match on the Las Vegas Metro Police Department range. Still, one advantage of hammer-fired guns such as the P250 is that in holstering, the shooter can hold the hammer down with the thumb and prevent an accidental discharge if something like an unsafely-designed safety strap, or the drawstring of a windbreaker, or (most commonly) a careless shooter's finger gets into the trigger guard and applies rearward pressure to the trigger.  Different folks have different opinions and tastes, and that's what makes horse races.
Laser Ammo (www.laser-ammo.com) offers an incredibly affordable "shoot/don't shoot" training system and marksmanship practice system which works off a laser attachment fitted to your own gun and interfaces with computer generated imagery. I liked it so much I ordered one, and I didn't order much at this particular cornucopia of gundom.
I met a lot of old friends and a lot of new ones, and if the feet are tired and heavy, the heart is upbeat and light. I'm gonna finish some work and catch up on sleep tonight, and shoot a match with friends tomorrow. The SHOT Show was a renewing experience that gave some insights into where the gun industry and the people it serves happen to be right now…and we'll discuss that here in a little greater depth before too long.
Brian Lasley, left, and Mike Streeter, right, of Remington discuss their company's new Tactical version of the Model 887 slide action shotgun, chambered for the awesome 3.5″ Magnum 12 gauge shell.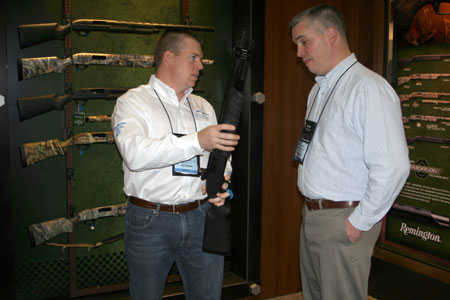 Master police trainer and combat pistol champ Dennis Carroll shows off SIG's P250 pistol, "tweaked" with ambidextrous manual safety levers (arrow).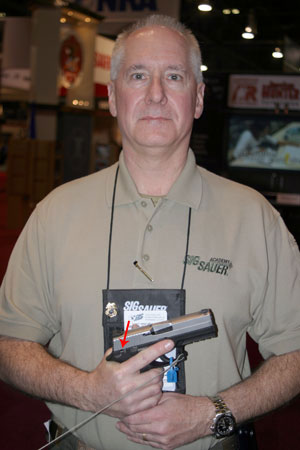 The last (next?) welcome we all saw as we left an exhausting but successful SHOT Show.