It's the third day of the SHOT Show for the dealers attending, the fourth day for the professionals who got there early for set-up and networking and advanced product testing.
AR15 rifle variants are everywhere. One theme this year of our host, the National Shooting Sports Foundation (NSSF), is that "AR" stands for "America's Rifle." It's good to see new companies coming in and being innovative. American Spirit Arms introduces an AR15 with a bolt operating lever located on the left side above the magazine, like an FN FAL. This eliminates the one non-ergonomic feature of Gene Stoner's Armalite design in this writer's opinion: the awkward T-handle at the rear of the action. The price is competitive, the action is smooth, and the handling IS faster. Heckler & Koch's take on the American AR, shown as a non-functional prototype last year at SHOT, is shown this time as a functional prototype, and seems to draw much from the company's 416 rifle.
Chiappa of Italy introduces a reasonably priced .22 Long Rifle version of the AR15, and also their intriguing Rhino revolver, reminiscent of an earlier Italian design, the Mateba. The barrel is parallel to the lower portion of the frame instead of the top, bringing bore axis down and thus reducing muzzle rise. The action of this "upside-down" .357 Magnum feels surprisingly smooth. There are already holsters being made for it, and it will accept a 6-shot speedloader for an L-frame Smith & Wesson. Instead of a round cylinder, this revolver's is hexagonal: you don't see hexagonal cylinders every day, at a revolver match OR a geometry class.
Savage Arms announces the production of yet another millionth Model 110-series rifle, introduced circa 1958. This plain-looking, beautifully shooting bolt action is proof of American values: you can look a little different, but if you can make those with you look good, they'll love you and you'll be popular. These Savage bolt guns shoot so well they do make their users look good. The company has a new Stevens brand pump shotgun (Stevens being a long-standing economy line under the Savage umbrella), that looks remarkably like the cheap Chinese copy of an Ithaca Model 37 that has been around for a while, and whaddaya know, it is stamped as made in China. Price is low, and with Savage Arms standing behind it on warranty, value should be high.
On the ammo front, Winchester is now selling a "buck and ball" load for self defense, a big solid slug with a sprinkling of smaller buckshot pellets in the shell. From the American Civil War to Brits in the Malaysian conflict, this combination historically worked well in close combat. Federal has a reduced velocity #4 buckshot load it has determined to be suitable for home defense. Both of the above are 12 gauge rounds. Are you one of the countless Americans who keeps a sweet-handling M-1 .30 carbine handy for home defense, but worries about the anemic reputation that gun's full metal jacket round earned in WWII and Korea? Speer introduces a .30 Carbine 110 grain Gold Dot bonded hollow point load that should be much more dynamic.
More tomorrow.
American innovation exemplified by the American owner of American Spirit Arms.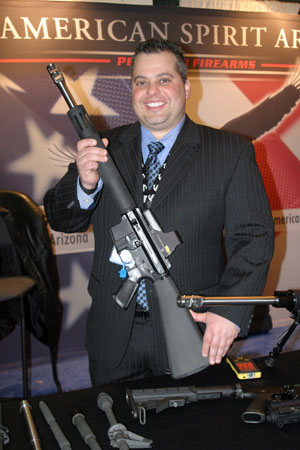 Mas feels left-side operating handle above magazine on American Spirit rifle definitely improves the ergonomics of the AR15.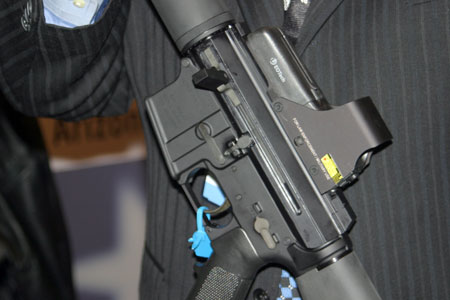 Forthcoming HK AR clones in .223, above, and .308, below.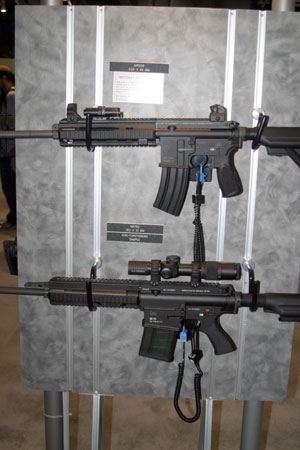 Here's a cutaway showing the unique mechanism of the new Chiappa Rhino revolver. The barrel is on the bottom, below the sight rib.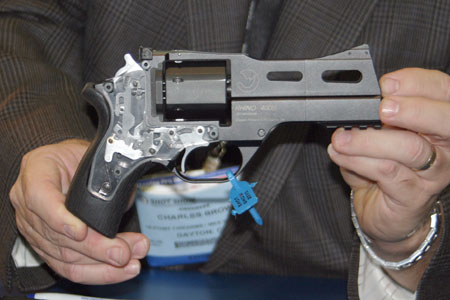 Lady champion Julie Goloski-Golub, a true ambassador for the shooting sports, does her daily demo at the Smith & Wesson booth.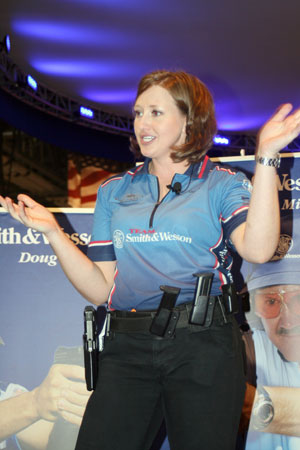 S&W's incomparable Jerry Miculek shows the crowd how to run a revolver at speed.