In any business, the industry's major annual trade show gives you a chance to put a finger on the pulse and see how the whole organism is doing. The Shooting, Hunting, and Outdoor Trade Show is no exception.
The unnatural buying frenzy that followed the election of President Obama is waning in terms of guns, but is still absolutely in effect insofar as ammunition. While the ammo shortage has let up a little, I don't see it getting a whole lot better any time soon.
Overall, the attitude of the buyers – the retailers who make up most of the attendees – was optimistic. Most of the vendors I spoke with were very happy with the volume of orders they wrote at the show.
The currents that drive markets are sometimes as obvious as the post-2008-election purchasing panic, and sometimes more subtle. An example: tons of folks bought their first AR15s or similar rifles during that period. Now we're seeing a smaller but very real second wave of purchasing. The guy who bought his first AR last year takes his buddy, his brother-in-law, or his next door neighbor to the range with him when he goes to shoot it…and the guest realizes this is a pretty neat gun, and decides to buy one, too. We're also seeing a generation of War On Terror vets coming back proud and confident of the skills they've developed with the M16 and M4, and want a similar semiautomatic version, the AR15, for reasons that include protecting their family. Hence, this year's SHOT Show theme of "AR = America's Rifle."
I first heard the "America's Rifle" term from my colleague, Chris Christian, who used it in one of the many articles he has written for the publications of the National Shooting Sports Foundation (NSSF), which sponsors the SHOT Show. Everyone was fed up with the assumption that "AR" stood for "assault rifle," a much demonized term in the American mainstream media. Actually, my understanding is that "AR"originally stood for Armalite, the company AR15 inventor Eugene Stoner originally formed to manufacture this rifle before Colt bought in to the concept and gave it some very long legs. Once it became the standard rifle of US armed forces, of course, "AR" was locked into firearms terminology forever.  Back in the day, my good friend Rich Davis proposed that the AR15 be called a "Home Defense Rifle." Unfortunately, that didn't catch on. Some suggested calling it a Sports Utility Rifle; I guess if you had one in a large caliber and lived in the hills of California, you could call it a "Big SUR." That didn't catch on, either.  Maybe "America's Rifle" WILL grow legs. I hope so. Thank you, Chris Christian.
The day after the Show, I wound down at a Glock match at the Las Vegas Metro Police range. Met a lot of great people, many of them cops, and was delighted to see how many LVMPD officers had volunteered to run the range the department opened to this largely private citizen event. After all, law enforcement and law-abiding armed citizens are natural allies. It was a great match (check out the format at www.gssfonline.com; there's probably one within striking distance of you if you want to give it a try), with lots of fine people attending.
I can't think of a better way to wrap up an intense week in the world of the gun.
Remington's introduction of their R-15 has done much to "legitimize" the AR15 as a hunting and sporting rifle in the US.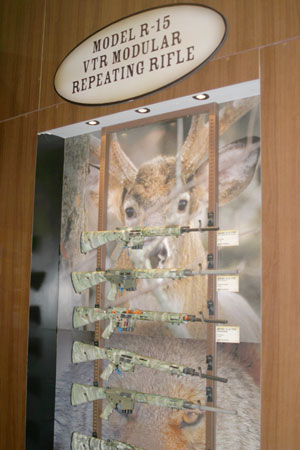 Arrow points to ejected spent casing as this young gun brother shoots the Glock match at the Las Vegas Metro Police range the day after the close of the Show. It was a great way to wrap up a week in "the world of gundom."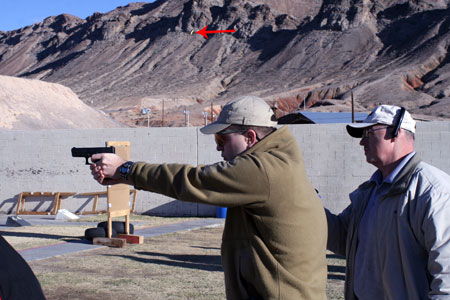 Chris Christian, the gun writer and firearms expert who, to the best of Mas' knowledge, coined the term "AR stands for America's Rifle."