Last summer, I got to sit down with SIG-SAUER CEO Ron Cohen and the engineers, and got to play with a prototype of their new striker-fired pistol.  I promised them I wouldn't discuss it in public until they announced it at the SHOT Show this week.  Some in the business didn't hold to that agreement.  I did.
And, it has now been announced:

This is the first striker-fired SIG pistol, and is of course designed to compete with the hugely successful Glock and Smith & Wesson Military & Police semiautomatics.  It's built on the chassis of SIG's familiar P250, and in fact the prototype we photographed six months ago is actually marked P250.
The P250 had growing pains, particularly in the area of the trigger bar.  It had one of the smoothest double action only trigger pulls in the semiautomatic pistol industry and still does, but today's market seems to want shorter trigger strokes, which the P320 certainly delivers.  The widely copied Glock trigger safety – which SIG calls a "tabbed" trigger – will be only an option on the P320, since some folks don't care for that design.  The P320 will share the P250's modular design, allowing quick changes of grip length and configuration, slide and barrel length, and caliber.  Now, going back to the Dan Wesson revolver of decades ago, it turns out that quick-change barrels are not a big draw for American police and handgunners, but the feature is there for those who want it.
The early bugs seem to have been worked out of the P250 design…I liked what I saw of the P320 prototype in New Hampshire…and the P320 is going to be a handgun to keep an eye on.  Congratulations to Ethan Lessard, SIG's in-house genius who led the P320 design team.
Ethan Lessard, left, fills Mas in on new suppressors, the just-announced P320, and other matters SIG, August 2013, Exeter NH. Photo from forthcoming Second Edition of Gun Digest Book of SIG-SAUER.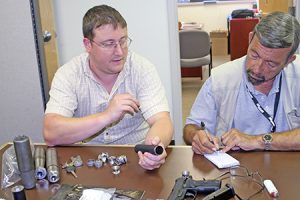 Prototype P320, photographed in summer 2013.  Note that frame is marked "P250." Photo from forthcoming Second Edition of Gun Digest Book of SIG-SAUER.