While deer season is the traditional time for sighting in, and that's a ways off from now, it's never too early to get things nailed down. Besides, self-defense knows no season, and the protection guns should always be sighted in, if only for verification. Something bumps the gun, eyesight changes…ya never know, so it's best to be currently sure.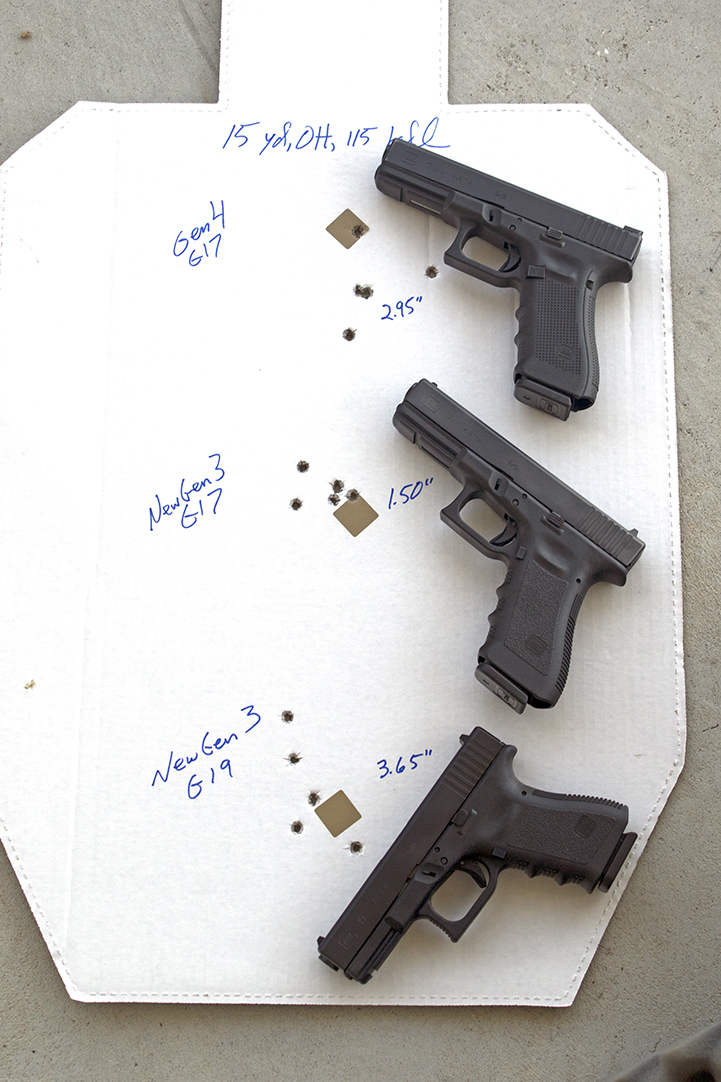 I had two guns to select and sight in last Sunday. For an upcoming class, significant other's 19-year-old grandson will be attending, and needs us to bring a handgun for him. He asked for a Glock 9mm, and it seemed logical to select one of the three I had earned recently at matches.
Only one had already been sighted in, a 4th generation Glock 17, which I'd had fitted with Trijicon night sights. It had been dialed in with the three glowing green globes in alignment, but we wanted the kid to learn a conventional post in notch sight picture, and with that it hit a tad right. (LESSON: Dots, fiber optic modules, and conventional sight pictures don't always send the bullets to the same point of aim/point of impact coordinates.)  Group size was a bit under three inches.
Next up was a 3rd generation specimen of the same pistol, just in. The 115 grain American Eagle full metal jacket training ammo put five shots exactly into an inch and a half, the best three half an inch apart center to center, but the group hovered a tiny bit to the left of point of aim. Finally, I tried a likewise new from the box Gen 3 Glock 19, the slightly smaller version of the 17. The group ran 3.65".  I let the Evil Princess decide, since it's her grandson. She chose the Gen3 G17.  There's enough difference between two shooters' eyes that what's off for me might be spot on for him, and if it's not, it'll be no trick to push the rear sight a whisker to starboard.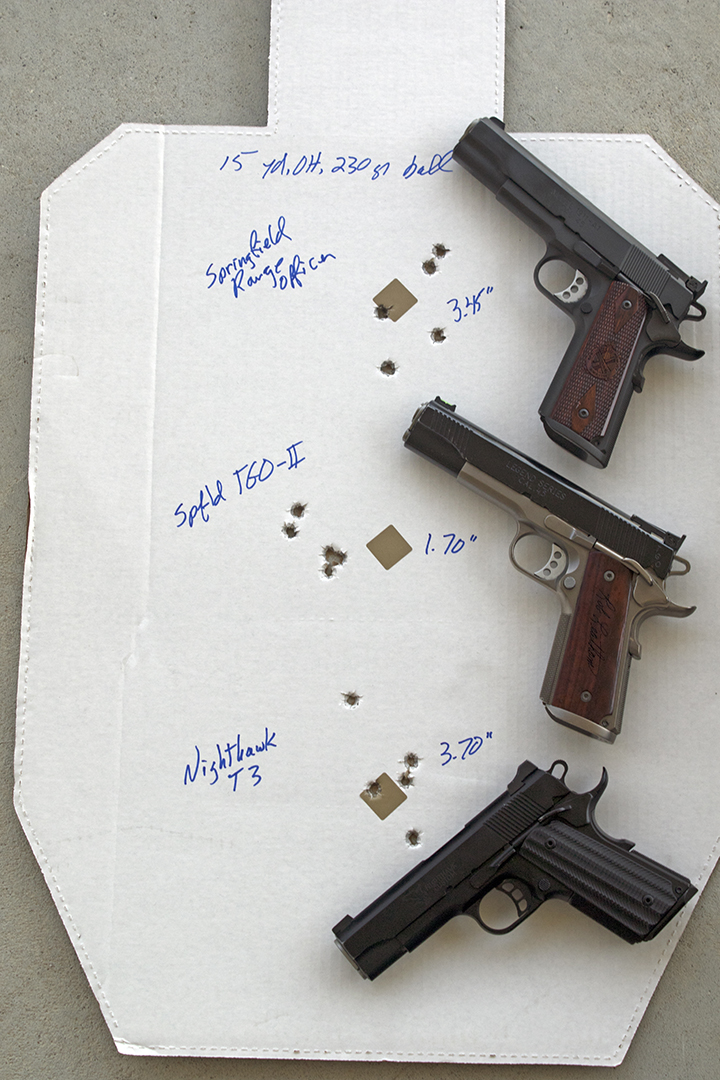 The other thing I needed to sort out was the gun to wear on our next trip after this one, which will encompass a state with a strict ten-round magazine limit, so I decided I'd take a 1911 .45 with single-stack mag. Two that I pulled from the safe were Springfield Armory guns. One was a TGO-II match pistol I'd just gotten back from a friend, who'd borrowed it as a spare to his twin of it for a major match. (His ran fine and he didn't need the spare.) He told me he'd adjusted the sights some, and sure enough, at 15 yards the group averaged two inches left for me. Fortunately, that's easy to fix with adjustable sights. I was happy with the 1.70" group, three of them touching. REDUNDANT LESSON: What's "sighted in" for one shooter's eyes, may not be for another. A much less expensive .45 from the same maker – the Springfield Range Officer, which I consider the best buy in an all-around 1911 pistol today — ran 3.45" and a compact Nighthawk Custom T3, 3.70". There were "called flyers" with both of the latter that expanded the groups: I caught myself starting to look over the sights to spot the shot with the Nighthawk, causing a predictably high hit I can't blame on the gun, and with the Range Officer, I felt myself rush the shot that went lowest.
On that last set, since I've got time, I'll give 'em another run before the next trip. LESSON: The sooner you start sorting and sighting, the more time you have to get things right.
All those .45s, I know for certain from testing, will group two inches or better at 25 yards with the ammo they like best, from a bench rest. I wouldn't be surprised if all those Glocks shoot better from the bench at that distance than I did here, shooting offhand from 15 yards.  LESSON: The bench rest is used intentionally to test the GUN more than the shooter. When I demonstrate for a class (or lend a gun to a student shooting that class), I want to know what the gun will do from the human hand, and in these upcoming classes the 15 yards I shot these at will be the farthest distance. LESSON: Once you've tested the gun, test the shooter with that gun, at a predictable distance. If testing for another shooter, test it the same way he or she is likely to be shooting it.
I suspect y'all out there have also learned some lessons about sighting in and verifying point of aim/point of impact. Feel free to share here.