The reader commentary on the blog entry located just below this one, about senior citizens with six-shooters, gives me hope that there are some "young guns" who haven't consigned the old ways to "the dustbin of history." Some other recent events point in the same direction.
While I was teaching at the Reichard family's Sand Burr Gun Ranch, at the end of the first week the top shot in class was Denny Reichard's son in law, Austin Gibbons. The kid used a Smith & Wesson Model 386 revolver to beat everyone on the range (including me, on tie-breaker, the little brat!). His gun was chambered for .357 Magnum and had a SNUB BARREL no less, and having seen him shoot in the past, there's no doubt in my mind that if he'd shot full Magnum loads instead of .38 Specials, the outcome would have been the same.
The same week, I shot the Indiana State IDPA Championships in the Enhanced Service Revolver division, using a Smith & Wesson Performance Center Model 625 revolver, caliber .45. Got whupped down into third place by a couple of younger guys using the same archaic technology: Pete White, whom I would describe as being in the "prime of life" age group, won the division overall. Right behind him was Caleb Giddings, a young buck who can be seen currently on The History Channel in their cool new series, Top Shots.
Just a few days ago, at the Carolina Cup in Oxford, NC, I watched Randi Rogers shoot the High Female score among a record field of 330 contestants and more than 30 women. Randi – in her early 20s now – performed that feat with a Glock 34 9mm semiautomatic pistol. However, she couldn't be there for the awards ceremony on Saturday evening because she had flown West to compete in a major event of the discipline that is her first love: Cowboy Action Shooting. There, she uses SINGLE ACTION "frontier style" revolvers…and it was there, as a young teen, that she established her dominance in that immensely enjoyable and nostalgic sport, by beating the men and winning national championships.
Young people who dominate their disciplines in the shooting sports, with old-fashioned guns. Sniff…excuse me while a happy old man wipes a tear from the bags and wrinkles under his eyes and mutters, "It's good to see the next generation understand the old values."
Young Austin Gibbons kicks young and old butt alike with his short barrel S&W revolver. There are 60 timed shots in that target.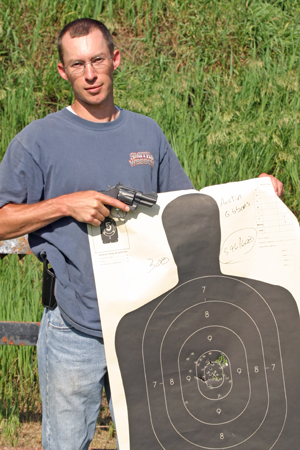 Twenty-something police officer Matt Morgan has won many trophies with the Glock he carries on duty, but recently had his S&W Model 66 .357 Magnum revolver worked over by Dennis Reichard for recreational shooting.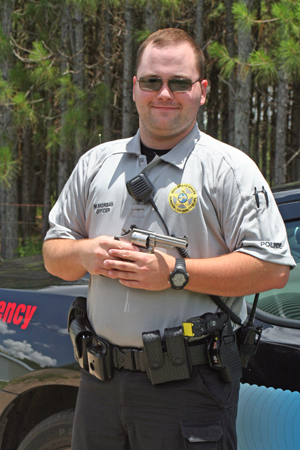 In her early twenties, Randi Rogers (shown here at last year's IDPA National Championships) wins national titles with her Glock 9mm, but shot her way to fame with single action revolvers.