SO LET ME TELL YOU ABOUT MY ST. PADDY'S DAY
So, being that I'm in semi-voluntary "self-isolation" at home and my lovely bride, the Evil Princess, is a thousand or so miles away taking care of her sick mom (NOT COVID-19, thank God), I was left to my own devices this last St. Patrick's day.
There are traditions to be observed, at least on my end. My name notwithstanding, I'm a quarter Irish on me mum's side; sure an' begorrah, her mother came to this country (Boston) from County Cork in the early 20th Century, where she met and married my maternal grandfather. I promised my mother, who passed in 1975, that I'd always "wear the green" on Saint Patrick's Day, and observe the holiday.
I've never been so glad to have a shooting range on my own property as now, during the time of Corona virus lockdown. How to commemorate the good Saint driving the snakes out of Ireland? I haven't had to shoot one on my property in more than a decade. That time I discovered that a 125 grain Speer Gold Dot .357 SIG round going 1430 feet per second from my Glock 31 pistol will vaporize the head of a water moccasin that is coming straight at you in your own damn carport.
If I couldn't drive a snake out of Ireland, I could damn well drive a Python to my shooting range. The Python I drove there was a sample of the newly resurrected Colt Python .357Magnum revolver from Colt. The oldest Colt Python of the ones in my collection is a four-inch barrel example with the incredibly lovely Royal Blue finish, produced in the mid-1970s and one of the very few guns I had occasion to carry on all three of the police departments I worked for in 43 years as sworn LE. The new one compares surprisingly well to the old classic Pythons, even though it's made in modern CNC and MIM fashion, and not lovingly hand-built by Colt's most expert craftsmen.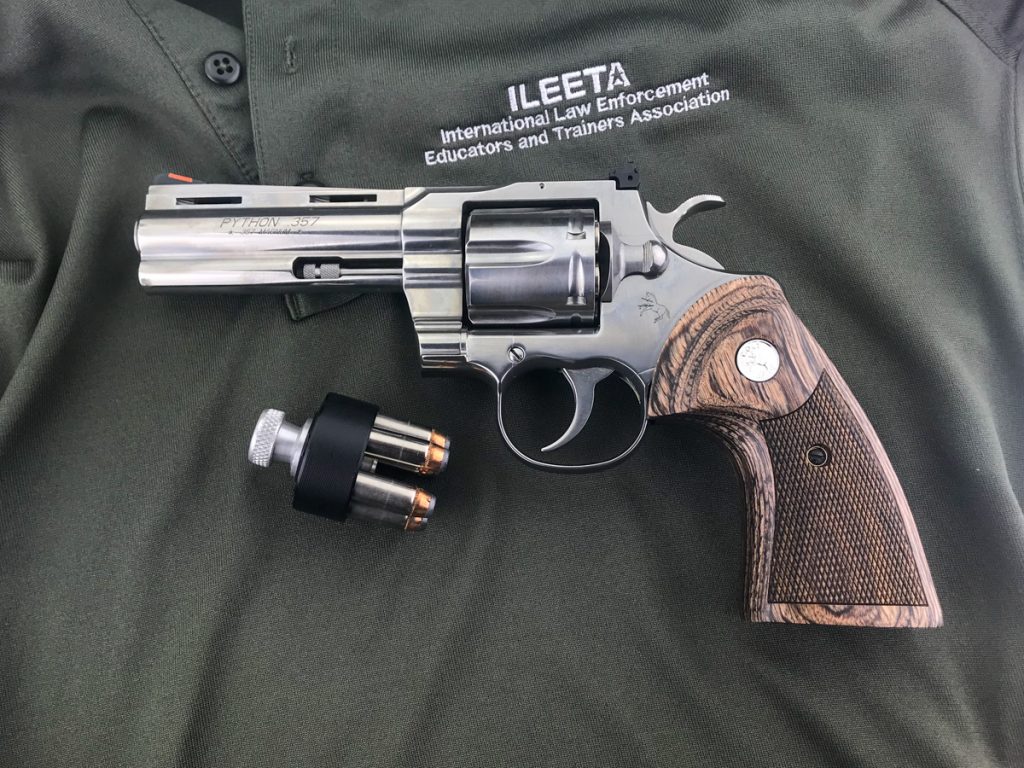 If you're not acquainted with the iconic original Colt Python, check out the three-part feature I did on it forty-some  years ago for American Handgunner magazine, here.
This new, cloned Python from its original maker is something of an allegory to what I think will be the predictable aftermath of the current pandemic crisis: Things won't be exactly what they were before, but hopefully, they'll come close…