SOME INTERESTING BITS OF HISTORY
A longtime student of Depression-era bad guys and the lawmen who chased them, I came late to the 2007 book "The Complete Public Enemy Almanac" by William Helmer and Rick Mattix.  The latter I'm unfamiliar with, but Helmer is perhaps the leading authority on the topic. Never got to meet the man, though I talked to him once on the phone. Helmer created the whimsical John Dillinger Died For You Society, was the only man to ever get a pro-gun article into Playboy magazine, and wrote the excellent historical text on the Thompson submachine gun, "The Gun That Made the Twenties Roar."
A few takeaways: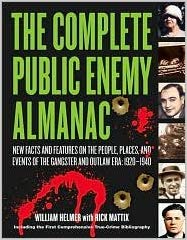 Helmer and Mattix wrote, "Holdups became so common during the Great Depression that few 'respectable' people ventured out after dark without some kind of weapon."
I had known that the notorious Baby Face Nelson was saved from death during a bank robbery when a .22 slug fired by an armed citizen stopped on the back plate of his bulletproof vest. I had not been aware, however, that Nelson was wearing armor on the day of his death as well. According to Helmer and Mattix, "…when 'Baby Face' Nelson went down in battle in November 1934, his legs were full of buckshot, but his vest had stopped all but one of the .45-caliber machine-gun slugs fired at him by FBI agents. (The one that missed the vest mortally wounded him in the lower stomach.) The next January, the bureau laid siege to a Chicago apartment building occupied by Russell Gibson of the Barker-Karpis Gang, and he died when his vest was penetrated by a metal-jacketed rifle bullet."
The authors attribute to John Dillinger the quote, "Never trust a woman or an automatic pistol." Funny thing about that. On the night of his death, Dillinger was accompanied by Anna Sage, who had set him up for Melvin Purvis of the FBI, and he died with a Colt .380 automatic pistol in his hand.
 "The Complete Public Enemy Almanac" turned out to be a great read. Recommended.