Last month was "retro month" for me, carrying and teaching with revolvers that harken back to the late Nineteenth Century.  The Smith & Wesson Model 66 .357 and Model 64 .38 Special I swapped between harken back to S&W's Hand Ejector Model of 1899 in terms of basic design.
It was time to update.
I figured I couldn't get a whole lot more Twenty-First Century than a polymer framed, striker-fired 9mm with the currently trendy "carry optics."  I chose my Gen4 Glock 19 MOS (Modular Optic System) with Trijicon RMR (Ruggedized Miniature Reflex) sight.  Gotta keep up with the times.  The pistol was gone over by Wilson Combat, complete with high-rise "suppressor-type" Trijicon night sights, so if the battery in the optic dies I still have something to aim with. I agree with my colleague Karl Rehn, who has done some extensive comparison work between red dot sights like this,  laser sights, and conventional "iron sights" that being able to line up the  iron sights you're already familiar with, through the glass of the optic, gets you onto the red dot faster. I'm carrying it in a High Noon Topless concealment holster which it fits perfectly, RMR and all.
This is a good thing for me, because I'm kind of like a house cat in one respect: I have trouble catching the damn red dot. The window in compact carry optics is a whole lot smaller than the bigger red dot optics that have been so successful on military rifles in the recent long conflict, or the ones we use on competition-only "space guns."  Carry optics are designed to be compatible with concealment.
My eye surgeon has a busy schedule, and between his schedule and mine we haven't yet been able to set a date for the cataract surgery I've been needing for a while on both eyes.  Thus, where you see a nice round dot through a red dot optic like the RMR, I see a blurry chevron-lookin' thing tilted sideways with a starburst behind it.  Still, if I put that in the middle and keep control of the trigger, it gets the shots where they need to go.
I just heard about a shooting drill created by the legendary Larry Vickers, called the Vickers 300. You take an NRA B-8 target, the black bulls-eye they use for 25 yard Timed and Rapid Fire at the NRA National Pistol Championships.  In this drill, you shoot ten rounds weak hand only from five yards, ten strong hand only from ten yards, and the last ten free style at 20 paces. I didn't know if "free-style" meant prone or whatever, so I ran it from two-handed standing. Cleaned it with a 100/100 at five paces left-handed, dropped one out of the ten ring all the way out into the eight-point ring right-handed at ten yards, and wobbled four nine-point hits from the 20 yard line for a total of 294 out of 300 possible points, or 98%.
Obviously, the old guy here needs to work harder, and drag himself deeper into the Twenty-First Century.  As some pussycat probably said, "I'll catch that damn red dot yet."
Wilson Combat Gen4 Glock 19, with Trijicon RMR optic backed up by hi-rise Trijicon iron sights.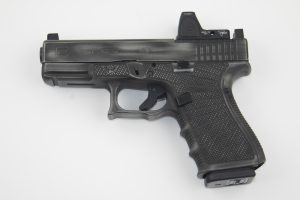 The optic-sighted pistol carries well in this Topless holster by High Noon.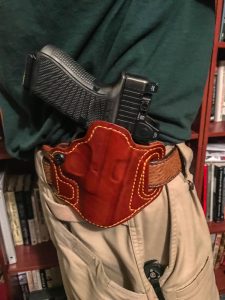 Vickers 300 drill started off well with all ten shots in the 10 ring, non-dominant hand only…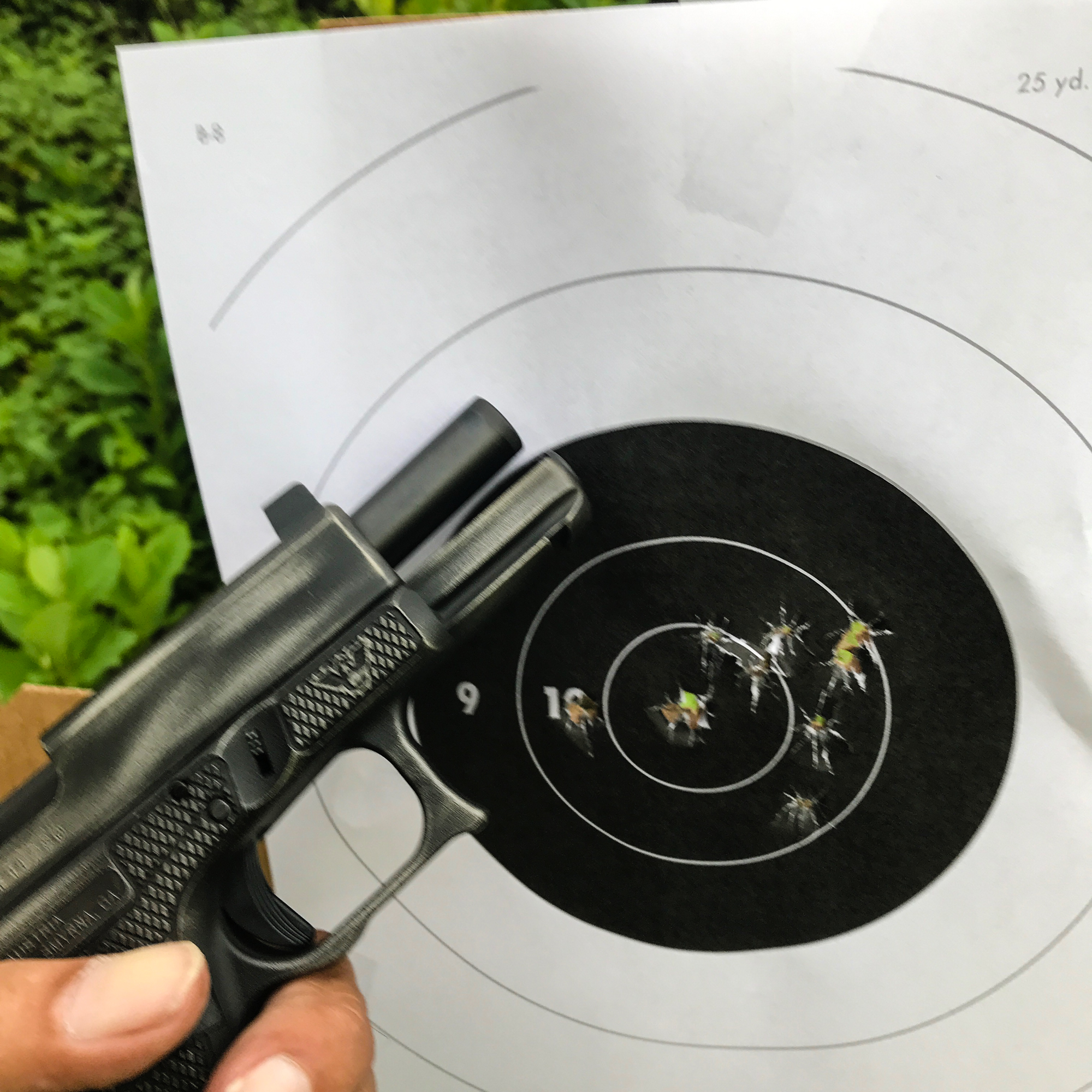 ..but I had one sloppy shot at about 10;30 on the middle bull dominant hand only, and dropped four "9s" from 20 yards 2-handed.  Old guy here still needs more practice time on carry optics.