This blog will be posted on 9/11/16, the fifteenth anniversary of the atrocity that was to our generation what Pearl Harbor was to our parents, grandparents, and great-grandparents.  Pearl Harbor led to a long and terrible war, and a time of homeland deprivation and Victory Gardens. It was a time that saw Americans donating their hunting rifles, shotguns, and handguns to Britain to allow the home guard there to defend against what was expected to be a boots-on-the-ground invasion of the British Isles by the Nazis.
Our forbears won that epic battle to preserve freedom. They left a lasting legacy of preparation. And, yes, of self-reliance. In World War I, a "backwoods home" kinda guy who had learned how to shoot in the hills, Sgt. Alvin York, put those skills to good use and became America's greatest hero of the conflict.  Audie Murphy, the most decorated hero of World War II, came from a similar mold.  Fast forward to Carlos Hathcock in Vietnam, and Chris Kyle in the current long-lasting conflict that grew out of 9/11/01. There are lessons here.
That self-reliance is at the heart of Backwoods Home, our host entity and the one to which I paid homage in the most recent post before this one.  A couple of days ago, at the Self-Reliance Expo in Lakeland, FL I finally got to meet Jackie Clay-Atkinson, who for good reason is Backwoods Home's most popular writer. Her talk drew more people than any other presenter's, and watching her answer audience questions I saw a human encyclopedia of the answers the attendees sought.
It's easy to see why she's so popular. She's as down to earth in person as she is in print, and Jackie also has a sense of humor of which the print media has not taken full advantage. She genuinely cares about the people who read her work. She walks the walk, talks the talk, and lives the life.  She and her family are role models in many, many ways.
The Backwoods Home booth was clearly the most heavily attended at the Expo while I was there, including the Home Depot display.  The "real people" public recognizes what Backwoods Home is doing for them.
On 9/1l/16, "Keep your head on a swivel" as Pierce Kibbey advised in his excellent presentation at Self-Reliance Expo. The "bad guys" in this fight seem to place value on anniversary dates when they plan their evil.
And stay ready for anything (I say as someone who went through a hurricane about ten days ago, and was glad to be prepared).  Thanks to Jackie and the whole team at Backwoods Home for all they do.
The Expo…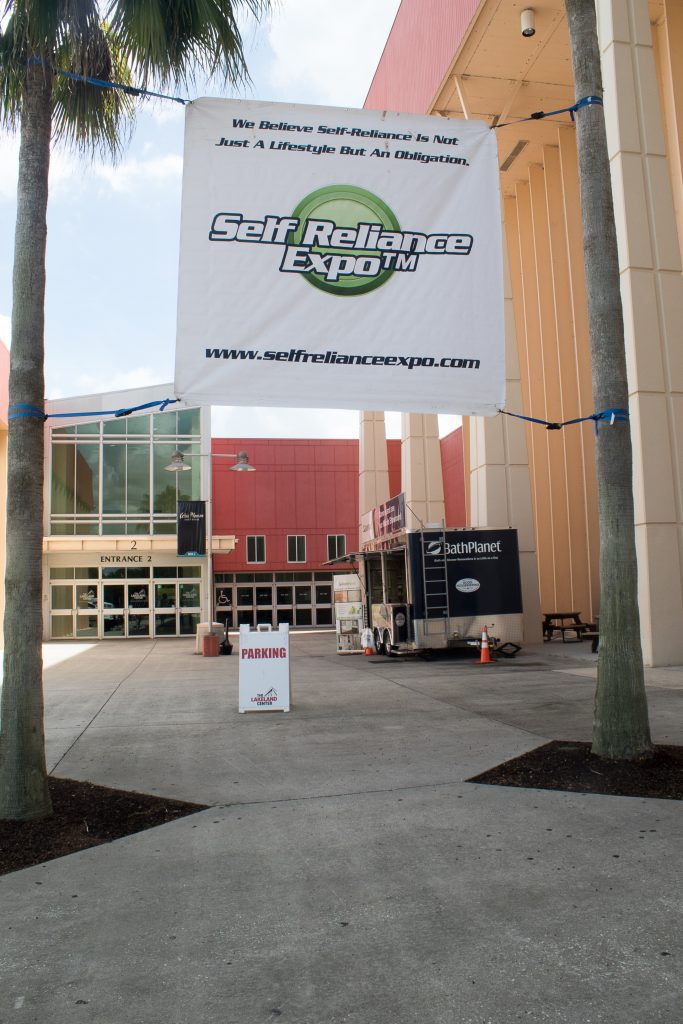 Got to finally meet Jackie, left, and see Lenie Duffy again…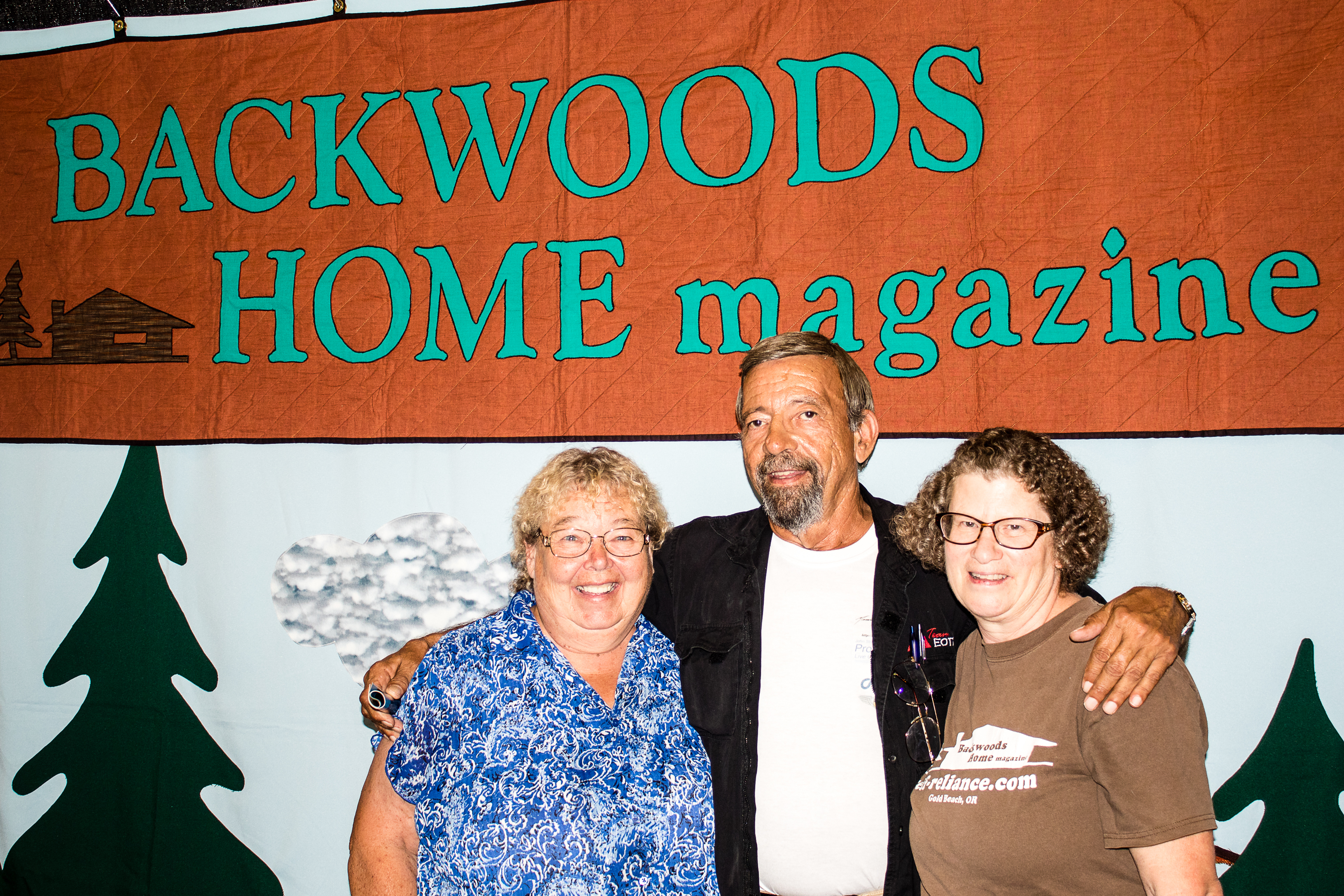 Jackie commanded the rapt attention of the largest audience I saw at the Expo.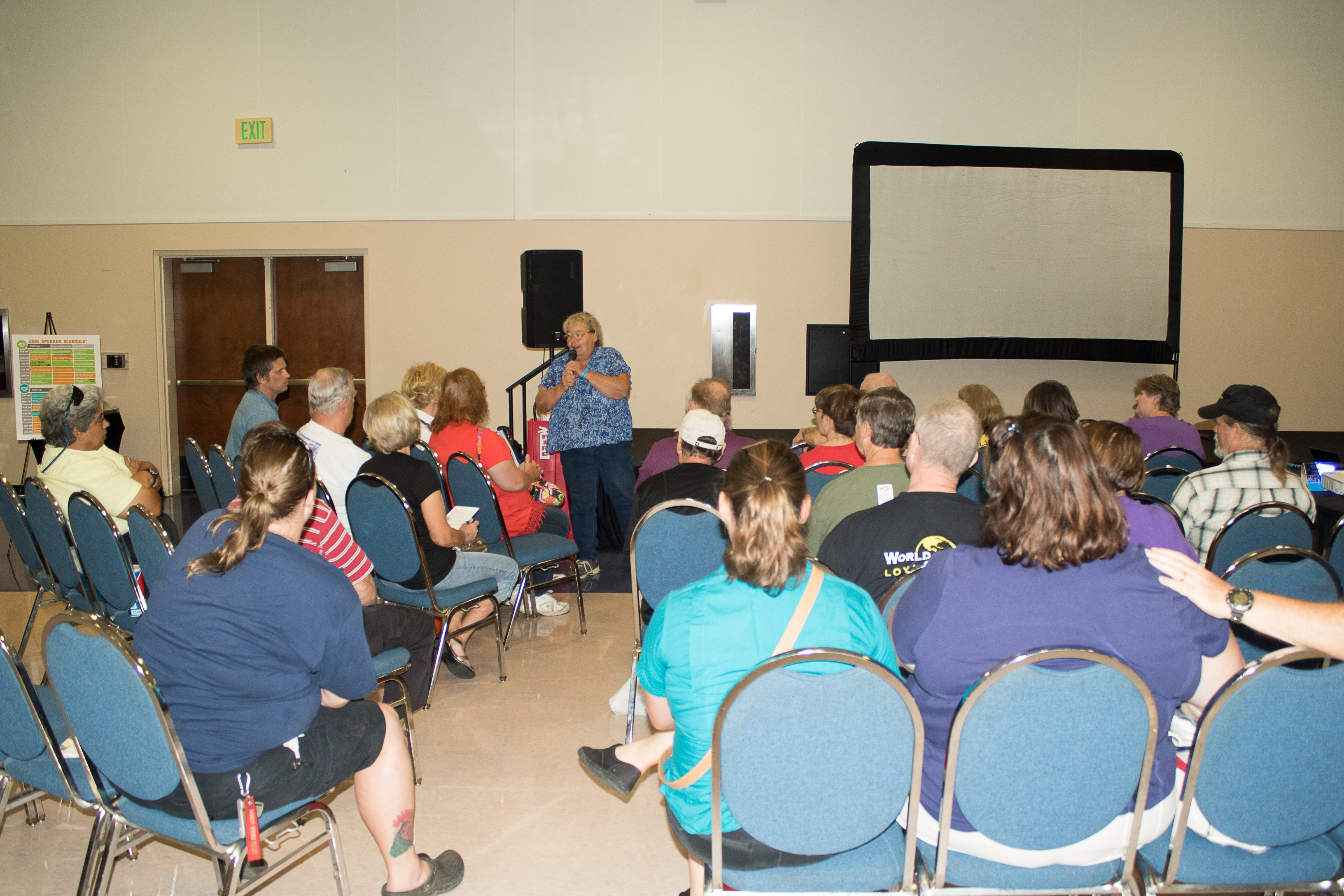 Pierce Kibbey's lecture on situational awareness was timely.