I recently passed through Waco, Texas and had a chance to kick one more item off the bucket list: a visit to the Texas Ranger Museum there.
            As a little boy in the 1950s one of my favorite TV shows was "Tales of the Texas Rangers." I can't remember a single plot-line now, but I do recall the strong emphasis on old-fashioned ideals of justice…and I thought it was pretty cool that each Ranger carried a pair of fancy Smith & Wessons.
            Live and learn: I hadn't known until the visit that some two dozen Texas Rangers died at the Alamo in 1836.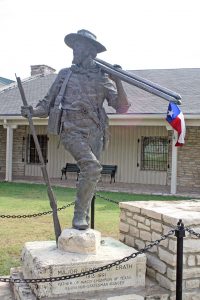 I expect the many horsemen and horsewomen among the Backwoods Home readership would have spent more time than I did on the fabulous display of saddles.  In my case, the only bronco I ever owned was a Ford product.  As you might imagine, I spent more time among the impressive gun collection.
            These brave men started out with single-shot muzzle-loaders for both their rifles and handguns, which shows how far back the organization goes. They were the first to use revolvers, the Patterson Colt of 1836. Its rapid fire capability proved to be a force multiplier, and Ranger Samuel Walker convinced Samuel Colt to make a larger and more powerful one, the legendary Walker Colt .44.  In the latter 1800s, they all but standardized on the Colt Single Action Army revolver and the lever-action Winchester rifle, and when the more powerful box magazine 1895 model came out, they flocked to them so fast that they are prevalent in pictures of Rangers during that period.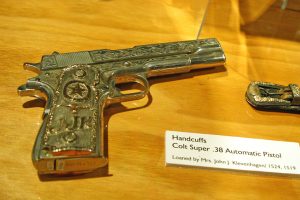 The Texas Rangers may also have been the first law enforcement agency to (unofficially) adopt the Colt 1911 semiautomatic pistol as soon as it came out, and it remains hugely popular among the Rangers even today.
         Even before that, they were buying semiautomatic rifles as soon as they were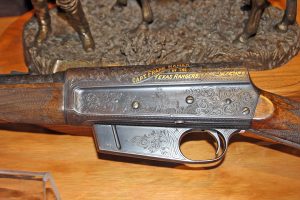 introduced, the Winchester 1907 and the Remington Model 8 which dates back to 1906.  While today's Rangers are issued .357 SIGs and 5.56mm autoloading rifles, they still follow the tradition of carrying privately-owned, department approved handguns, and the 1911 remains a trademark of the Rangers.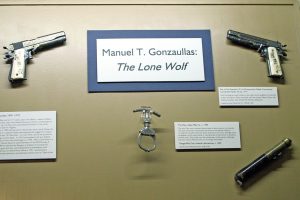 More than perhaps any other agency, the culture of the Rangers encouraged fancy, personalized weapons. Perhaps it was an extension of their historical emphasis on individuality as a means of encouraging superior performance.