How many of us got our first gun for Christmas? Or our most memorable one? Share the memories here!
The Christmas gun that sticks most in my mind was under the tree for me in the year 1960. It was a Colt .45 Automatic. These days, we're semantically incorrect if we don't call it a semiautomatic, but hell, Colt called it an Automatic Pistol, and it was the term of the day, and who was a twelve-year-old kid to argue?
Early in December of that year, Dad and gun dealer Stan Sprague took me out back behind Stan's great old gun shop to have me try the pistol. I braced myself. The gun was at arm's length in my right hand (you fired handguns one-handed then), and I'd heard and read that a .45's "kick" could "tear the arm out of the socket." I squeezed off one shot. I kept the muzzle downrange and turned only my head and said, "I like it, Dad…"
That set the pistol, a military surplus gun bought for $37.50 in 1960 dollars, on its way under the Christmas tree a few weeks later. Lesson 1: If at all possible, make certain that the gift gun is right for the giftee! Today, almost half a century later and a firearms instructor most of my adult life, I wish I had a buck for every kid/lady/police recruit I've met who was given a gun that didn't fit them for size, recoil, or actual need. With all those dollars, my Christmas gift budget for this year would be taken care of.
The pistol, a 1911 model produced in the waning months of WWI, was not alone under the tree. Dad bought me the gun, but Mom bought me a nice new military surplus tanker's chest holster for it at the Army/Navy Store downtown. My sister ordered me some books about it, including the Army manual, and by Christmas night I was practicing tearing it down and reassembling it. I soon got to where I could field strip the pistol and reassemble it, with eyes closed, in about a minute. My Uncle Whitney bought me a ten-dollar box of new commercial Winchester 230 grain .45 ammo for it…a sinful luxury, since back then we bought GI surplus ammo for half that price in beige boxes at the gun shop or that Army/Navy Store. (And they sold it to kids who had permission notes from parents the dealers knew.) Lesson 2: Guns are big-ticket items. Let other givers chip in. Think ammo. Think cleaning kits. Think gun cases, slings, and holsters, and gift certificates for firearms safety/shooting classes.
Lest you think it was an inappropriate gift for a kid in puberty, let me explain that I had been shooting long guns since age four and pistols since age nine. I had learned the importance of living up to the responsibility I'd been given. Reading gun magazines more than comic books, I had watched the renaissance of the "obsolete" Colt .45 auto accomplished almost single-handedly in the articles of Jeff Cooper in Guns & Ammo, and had wanted one so badly I'd told my dad that a Colt .45 Automatic was the only thing I wanted for Christmas. Within a year, I was carrying it loaded in the family jewelry store, because my dad and his dad had both been in shootings, which, as armed citizens, they'd survived. Lesson 3: A firearm is a gift that says, "I consider you responsible, and I trust you." Give that gift only when you can say that honestly. Later, when I gave my own kids guns at Christmas and at other times, I was sending the same message. In each generation, the message was received…
I still own that ancient Colt .45 Automatic. I carried it in a jewelry store as a kid in the 1960s, and as a young police patrolman in the 1970s. It helped to set me on a career path that has helped some other good people to stay whole in more ways than one. Transferring a lethal weapon between private parties is not as easy as it once was, and I refer you to the ProArms Podcast Number 16, from http://proarms.podbean.com, where you want to listen in particular to veteran firearms dealer Herman Gunter's advice on how to give a gun to a responsible person you care about in a totally legal way that avoids any accusation of "straw man purchase." And, when in doubt, we all remind you that a gift certificate from the gun shop is the easiest way to handle such a gift between adults, especially when giver and recipient live in different legal jurisdictions.
I wish you all the best of Holiday seasons.
Gift certificates make "gun gifts" much easier.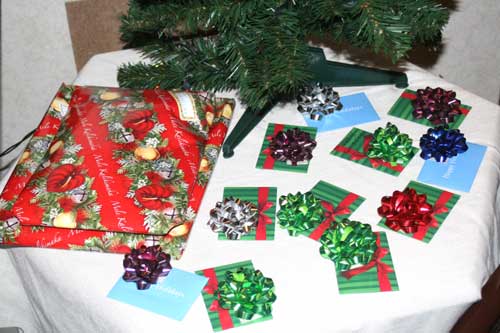 North American Arms is one company that can make giftee's name or initials into the serial number (must usually be alpha-numeric), but considerable advanced order time is usually involved.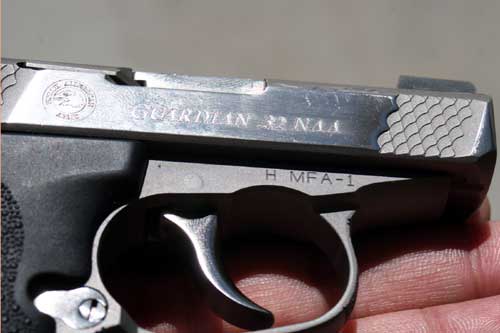 A jewelry store can engrave names on revolver's sideplate or auto pistol's slide. By leaving those parts, no one at the shop is alarmed and no illegal transfer of firearms possession has taken place. Lettering can be much fancier than this, for gift items; this is author's service revolver from 30 years ago, S&W Model 66 .357 that shows much use, and name was engraved simply for ID purposes.