New lenses, that is. My eyes. About fifty weeks ago, my ophthalmologist told me it was time for cataract surgery. The best surgeon around had a heavy schedule, so did I, and it took a long time to coordinate the dates. On January 8, Dr. Karl Bodendorfer did my left eye, and a week later, the right. The whole eyedrop regimen is ongoing and more routine followup is scheduled.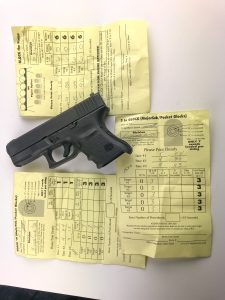 Not quite a year ago, I posted this blog entry.  Well over a hundred of you good readers were kind enough to reply and share your own experiences.  My outcome was in line with what the great majority of y'all experienced.  I had no pain; the twilight sleep effect of the conscious sedation never manifested itself; and my eyesight is profoundly better.  Shot my first match of the year today, and while I can't say my scores were any better than last year, I was able to see the whole thing a lot more clearly.  Anytime I can shoot 54 shots at all separate targets in under 50 seconds and hit with all of them, zero points down,  with a subcompact .45, I have no complaints.
Profound thanks to not only a great eye surgeon, but to all of you who encouragingly shared your experiences. If you or anyone you know might be contemplating this surgery, feel free to share this and the link included above, which I for one found very helpful.
It's good that night driving is a pleasure instead of a chore, and driving home tonight with intermittent downpours I discovered happily that I could once again navigate dark and wet roads. For the last year, if it started raining when I was driving at night I would pull over as soon as it was safe. Halos and starburst effect from oncoming headlights were merely a hassle, but when that was multiplied by reflections of headlights and taillights on wet pavement, the world on the other side of my windshield turned into a kaleidoscope. No more.
I'm looking forward to gazing through an optical sight and seeing a red dot instead of a red smear, streak, or starburst. The world no longer looks like a smoke-filled room.
I only miss one thing about those cataracts with their visual effects…
…with starburst vision, Fourth of July fireworks were awesome!