Before you take a rifle course you need a, uh, RIFLE. You probably already own a suitable gun. If you don't, let the hosts know beforehand, and they can most likely round up a loaner for you. Even if you've never fired a gun before, that's something the experienced and dedicated Appleseed crew can deal with. They've certainly done so before.
At the single event I attended, I saw everything from a WWII Russian Mosin-Nagant (which kicked hell out of the brave young man who shot it, yet he persevered and shot remarkably well!) to an M-1 Garand and more than one M1A/M-14, and an SKS and an AK47 semi-auto clone, and a few AR15s. That said, though, the OVERWHELMING majority of shooters chose the humble .22 Long Rifle cartridge, usually in a semiautomatic rifle.
Half or more of the course is fired from prone position, and that gets in the way of the firing hand working a lever action, and tends to cause short-stroke malfunctions with the forward hand when operating a slide-action. Appleseed legend has it that their best score ever was fired by a septuagenarian master of the smallbore rifle, using a bolt action target gun…but few of us are old masters, and when you have a relatively short time to drop to prone or sitting, load, fire two shots, reload, and fire eight more, the bolt gun is slo-o-ow. It's not so much the time it takes for the four motions to eject the last spent casing and rechamber the next shot…it's more that the gun moves off target during that violent motion, and the hand has to re-take its firing hold and position on the trigger – and take up trigger slack – ten times instead of just once, while the clock is running.
That's why the great majority who are Appleseed veterans recommend a semiautomatic. I saw the super-popular Marlin Model 60 there, but this rifle is generally encountered with a tubular magazine…not fast at all to reload.  The dominant gun, by far, was the Ruger Model 10/22 semiautomatic, so named because it holds ten rounds of .22 Long Rifle in its relatively easy to swap out box magazine. (Yes, longer magazines are available from aftermarket sources, but many of them don't work reliably.)
The flip-up iron sight on the rear of a standard 10/22's barrel is designed for plinking, and not conducive to either maximum accuracy or easy adjustment for zero. Experienced Appleseeders recommend the Tech-Sight, an aperture type iron sight reminiscent of those on the WWII Garand and the Cold War M14, with very reliable and repeatable click adjustments. Fit THIS on a Ruger 10/22, attach a GI surplus web loop sling, and you have the LTR (Liberty Training Rifle), the quasi-official .22 of Appleseed.
We nearsighted geezers do better with magnification. The pretty girl shooting next to me did great with a red dot optic, but her younger eyes were sharper than mine, and for me, the big red dot obscures the center of a precision target. I'll take a powerful telescopic sight…I set mine at 8-power magnification…but that's just me. I tried the course of fire again with a 2.5X Weaver scope on another .22, and it delivered ample precision and "feedback."
Most first-timers at Appleseed won't win the Rifleman's Patch. That's OK. It's not about that! It's about the history at the core of our nation's history. It's about both personal and collective discipline, and the heritage of marksmanship in what USED to be – and hopefully will be again – known worldwide as A Nation of Riflemen. Bring what you have…come ready to learn…and open yourself to the Appleseed message of pride in your country, a nation built upon baseline American values of individual accomplishment and self-reliance.
Blackhawk cushioned shooting mat, which folds into a rifle case, worked GREAT for Mas, and at least one other shooter there. This one has been augmented with car blanket for even more comfort. Rifle is Ruger 10/22 with Evolution adjustable-length stock and ATN red dot optic. Orange "chamber flag" to show that gun is completely unloaded is standard Appleseed safety protocol, and is issued when you get there.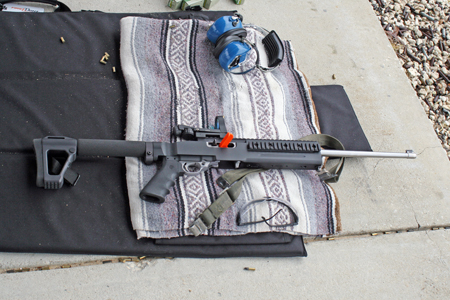 Ordinary Ruger 10/22, with Tasco telescopic sight and milsurp web loop sling, is "good to go" for Appleseed.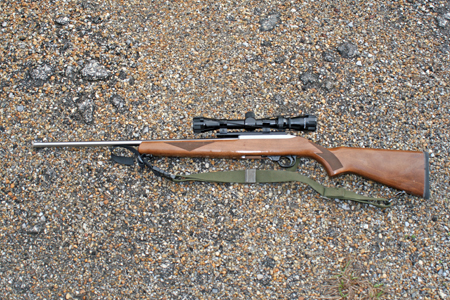 This determined young shooter ran the course with hard-kicking bolt action Russian Mosin-Nagant, WWII vintage. OUCH…but he did well!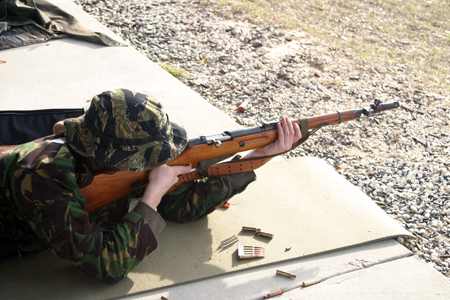 The Rifleman's Patch is a benchmark of Appleseed shooting…but the experience is much more about history, discipline, responsibility, and skill acquisition than it is about winning an award.