THE GUNS OF OUR ANCESTORS
It's April 4, my father's birthday.  He was born in 1900 in Boston, and would have been 118 today.
He was the man who taught me gun safety and a whole lot more, and set me on the path that became my career.  I inherited a lot from him in a lot of ways, his guns being among the most tangible.  One I will shoot today in his memory, for the first time in decades, is one his own father gave him.  Grand-dad, who had immigrated to the US in the late 19th Century, died in 1948, a few months before I was born. Family lore has it that my grandfather used this pistol to shoot an armed robber who pistol-whipped him in his store, and lived to briefly regret it: the wounded thug ran away, and was killed later that night in a second gunfight with a Boston police officer.  The cops appreciated that Gramps had slowed down his gun arm with a .32 slug.
The pistol is a 1903 Colt Pocket Model semiautomatic, caliber .32 ACP (Automatic Colt Pistol) with a serial number that dates to 1920. My dad later used it to put a burglar to flight with no shots fired.  The gun has some patina on it, doubtless from decades of living cocked and locked and fully loaded in a leather holster nailed out of sight but near to hand on the side of a showcase near a radiator in Dad's jewelry store.
It was the first semiautomatic pistol I ever fired, at the age of nine, in 1957 or so.  I remember that it felt kinda snappy then.  Today, a lot of .45 and Magnum rounds later, not so much.  I picked up a box of .32 ACP full metal jacket at the gun shop where I hang out, ProArms, and fired a commemorative eight-round magazine through it on my range.  One of my daughters has shot it, also for old times' sake, and it's the only firearm on my branch of the family that has been fired by four generations of us.
Ah, memories.  I bet all y'all have some "heirloom guns" with great sentimental value. Feel free to share here!
Grand-dad's Colt .32. It held 8 in the magazine and one in the chamber, half again the firepower of a six-shooter in a time when many considered .32s adequate for defensive purposes.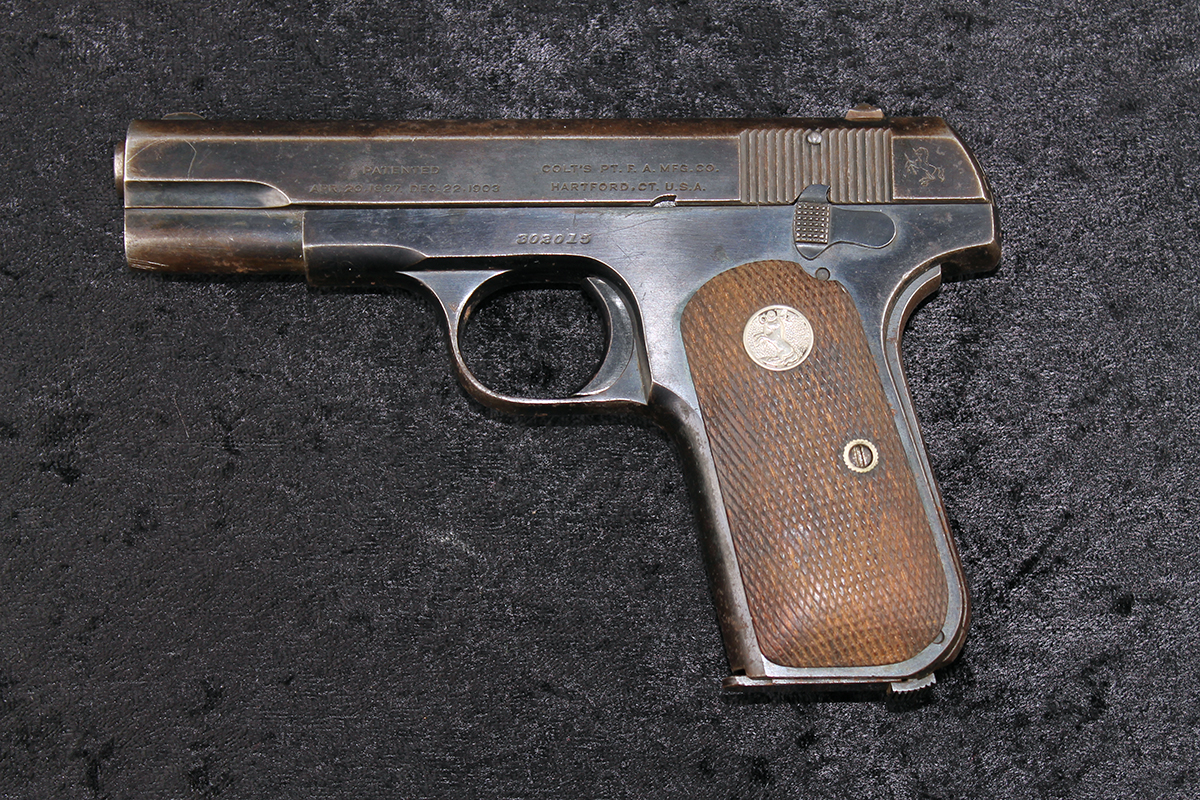 Grandfather's now 98-year-old gun, in now-elderly grandson's hands, still shoots. 8-round mag at 5 yards. I hadn't remembered it shooting high, but it's been a long time…