I spent Christmas in the Chicago area, and returning to warmer climes for (most of) the rest of the season reminds me of why I have lately wintered as much as possible closer to the subtropical zone.
Most of my life, though, was spent in Northern New England where winters are long and cold. From there to Canada to Alaska in winter, I learned that careful planning can make guns a lot more manageable in sub-freezing and often sub-zero temperatures.
Cold hands get numb, and numb hands get clumsy. Gloved hands can be warm, but warm gloves are thick enough to reduce the sense of feel and make gun-handling clumsy…a potentially dangerous thing. Snow, freezing rain, and even a rime of ice on the gun when you're outdoors with it long enough in inclement weather won't help, either.
As to gloves, you want the one on the hand that works the trigger to come off quickly, smoothly, and silently when you need to shoot. I tried the old woodsman's trick of a thin, lengthwise knife slit on the trigger finger portion of the glove to let the warm index finger sneak out when it needed to work the trigger. Imperfect. Snow got into the glove and froze the finger as soon as you had to grab a snowy branch or catch yourself in a fall in the snow. Also, the palmar surface of the glove wants something rubbery for traction.
Traction helps on the gun itself. Consider skateboard tape. Yes, it's ugly…but it's efficient.  Most lubricants thicken and get sludgy in arctic temperatures. Oil in the firing pin channel that "gels up" can cause a misfire when you desperately need to make a shot. Some of my colleagues swear by graphite. I found that thin watch oil worked great.  I learned to put masking tape over the gun muzzle to keep snow out of the bore. If the bore plugs with snow, unnoticed in a fall or when a branch dumps snow over you and the muzzle-up rifle or shotgun (or catches unnoticed in the muzzle-down long arm), the stage can be set for a blow-up when the gun is fired with an obstructed bore.
I learned that a heavier trigger pull was a good thing to prevent premature discharge when working with cold-numbed or gloved trigger finger. I learned that a rifle or shotgun that fit perfectly in T-shirt weather was too long, and needed a shorter stock, when there were thick, multiple layers of winter clothing material between the shoulder and the gun butt.
As a handgun hunter in my teens, I learned from my predecessors to carry the gun under my coat, protected from the elements. With a long coat, a cross-draw holster let me reach it quick, but I found a shoulder holster worked best of all: if I fastened the outer coat up to just below the pectoral muscles, the upper part of the coat would stay closed to keep out cold and wind, but the hand could knife right in to gain immediate access. The coat-protected shoulder holster also gave the best protection to the handgun if you fell face-first in deep snow. I learned from experience that gloves would block the trigger return of double action revolvers. And I learned in the worst inclement weather to carry "beaters" – true rough duty guns, not "safe queen" guns – that wouldn't make me worry more about the gun rusting than about spotting the deer in the thicket.
Plan ahead, and get practice manipulating your guns with gloves. You may have to do just that in a fast-breaking "shoot now or forget it" situation.
There are lots of folks reading this who have tons of experience shooting in deep cold. Please – chime in and share what you've learned about that!
Judiciously applied skateboard tape can greatly increase gun traction in cold-numbed, wet, or gloved hands at the expense of esthetics. Here, we preserve good taste AND good grasp with champion shooter Jerry Barnhart's "Burner" grips, seen here on Colt .45 auto and available through Barnhart Performance at www.jerrybarnhart.com.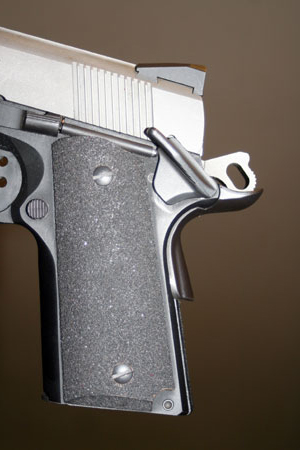 In seriously inclement weather, nothing protects an all-day-outdoor handgun better than a good shoulder holster. Here, Bianchi X-15 rig carries one of author's Colt .45s under a quilted winter overcoat. Gloves are Thinsulate.