If you live in the country or anywhere near it, you know the sound of crickets.  It's pleasant, and soothing.
That's distinct from the soft "crack, crack" of Cricketts, which I for one find pleasant and reassuring.
The Crickett™ is a scaled down .22 rifle designed for kids. A single-shot bolt action, it's today's answer to the Chipmunk rifle of a generation ago, made light and with a very short stock for children's arms.  Military small arms expert Peter Kokalis said the Chipmunk was the most important rifle of its time, because it was designed to get The Next Generation into the safe appreciation of responsible firearms ownership.  I have to concur.  The Crickett carries on the tradition. It comes in plain grayish black, or camo for hunting, and even in pink, which my gun dealer friends tell me actually does appeal to little girls and those who buy guns for them.
A week ago I was at the Enfield Outing Club in Enfield, New Hampshire.  In recent weeks, this extraordinarily civic-minded shooting club had hosted an Appleseed event and a shooting match to benefit Wounded Warriors, one of my favorite charities. They hold firearms safety courses for the public there on a regular basis. EOC exemplifies how a gun club can be a community asset.
While I was there, Dickie Crate dropped by with his eight year old son Owen, both on bicycles.  Crate is Chief of Police in Enfield, a solid professional much appreciated by both his officers and his citizens.  He and Owen get by the club often, and Owen enjoys shooting his own Crickett rifle there.
In talking with the grown-ups, Owen allowed that he'd like to try a telescopic sight on his .22. One of those present was Russ Lary, who retired three years ago after many years as chief of police in neighboring Grantham.  He and Chief Crate had a short discussion, and Russ left with young Owen's rifle.
When he met Dickie and Owen on the range again a couple of days later, the rifle had been to Rody's Gun Shop in nearby Newport, one of my favorite places of its kind. Proprietors Bill and Henry Rodeschin had mounted one of Crickett's own four-power scopes, and bore-sighted it.  They did an excellent job:  Owen's first shots from a standing position centered spot on in the little "X" that Dickie and Russ had taped to the center of the target.  Owen was one happy kid.
The crickets may be relaxing, but Cricketts gladden this old shooter's heart…and so do the fine young men and women who shoot them, and the responsible parents who buy Cricketts for them. Info is available at http://www.crickett.com.
 Owen Crate gets the feel of his newly-scoped Crickett.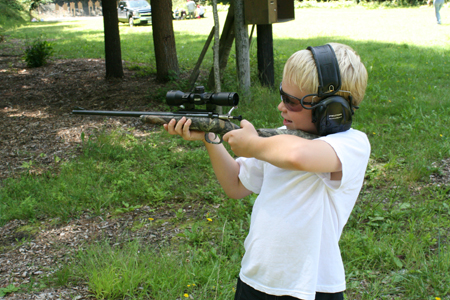 From left: Chief Lary (ret.), Owen Crate with Crickett, and Chief Crate.