Just got back from six days in Tallahassee, five of them at the Pat Thomas law enforcement training center both studying and teaching at the High Liability Instructors Conference, and one day prior shooting the pistol match that was ancillary to the event.  Practice was a constant thread that ran through the entire experience.
The two events that kill more cops than anything else are shootouts and car crashes.  There was heavy emphasis on preparing for both.  When your vehicle is slewing out of control is a lousy time to START getting experience in steering out of a skid.  That's why the $45,000 Skid Car device we mentioned in the last post is absolutely worth its price for training purposes.  Training costs are cheaper than death benefits and lifelong Workman's Comp, and those two things are exactly the stakes on the table.  As cops have long said, it's better to sweat in the training environment than to bleed in the street.
The pistol match kinda brought that home for me, and for the significant other. She's the current state and regional women's champion in International Defensive Pistol Association shooting, and being five feet tall, was chosen to teach the bloc for instructors on how to adapt small-handed female officers to full-size issue service pistols.  Primarily an auto pistol shooter, she grudgingly practiced with her "old fashioned" Smith & Wesson Model 67 revolver. The practice paid off at the match: she won High Woman in the service revolver category.
I had practiced with her, something I don't usually have time to do before a match anymore. The practice paid off for me, too.  Another truism in law enforcement is that "in a fight, you won't rise to your greatest possible ability, but will probably default to your training."  This course involved the police B27 silhouette target fired in competition mode, which means that the target is a 2" X 3" oval tie-breaker X-ring, fired at under time constraints from as far as 25 yards.  The practice scores were consistently 100% in "qualification mode," but in the much tougher "competition mode" scoring they ranged from 97.5% to 99.2%.  Did I skyrocket with a flash of brilliance and shoot 100% on match day? Hell, no…but I did default to the 97.5% bottom line of performance "on demand," and that was enough to win the revolver match (S&W Model 64 .38 Special, 4" barrel) and the pistol match (Beretta Model 92 9mm), and take the overall win.  For me, practice beforehand hadn't delivered stellar performance, but it HAD helped to guarantee a safety net where "fallback" wouldn't fall TOO low.
The lesson is, I guess, that the more you drill with the relevant skill, the more you retain that skill for "on demand" performance. The deposits practice makes in your bank account of what some call "long term muscle memory" give you a balance against which to draw a check when you need to pay out some skill for something important.  That's a check you can't afford to bounce.
There's a reason cops practice. It's the same reason we all should.
Practice target: Gun is S&W Model 64 .38 Special with Craig Spegel "Boot Grips" designed for concealment.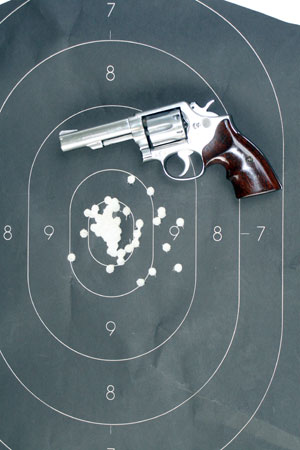 Match day. With Stage 2 of revolver event complete, score is 180-16X out of 180-18X possible, so far. Model 64 is in Ayoob Rear Guard holster by Mitch Rosen, on right hip.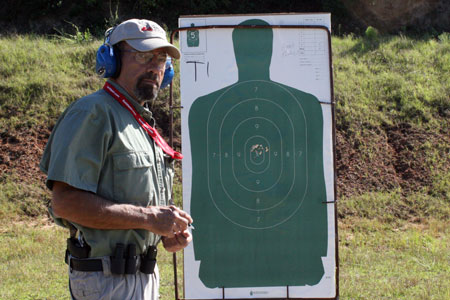 Gail is happy that she has practiced with that old "20th Century gun," S&W Model 67 tuned by Bill Pfeil with Hogue grips and riding in Milt Sparks #1AT holster.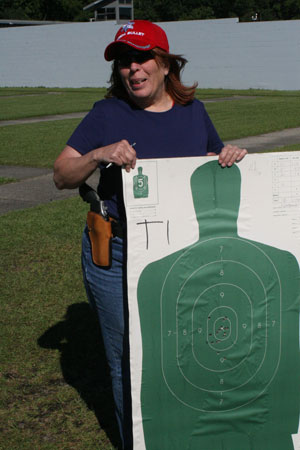 Practice pays off. Match director Mark Rominger, left, hands Mas a gift certificate for a new S&W pistol, prize for top overall shooter. Score was delivered with Beretta 92 9mm pistol that's concealed under Mas' EOTAC lightweight vest.