At lunch yesterday, my friend Ernie Traugh and I were discussing the Biden-Ryan debate when a couple of white-haired ladies came over to our restaurant table to join the discussion.  Like Biden, they interrupted; unlike him, they weren't (expletive deleted) about it.  Turns out they were life-long Democrats now well into their Social Security years, who saw Joe Biden as a protector of senior citizens, but not as an exemplar of good manners the night before.  One mentioned that while she had been disappointed in the President's performance in the Denver debate, she thought Biden had gone too far in the opposite direction.
By one pundit's count, Biden had rudely interrupted Ryan some 82 times in 90 minutes. Eye-rolling and mocking laughter was his schtick throughout.  As discussed last week, non-verbal communication is often the most powerful.  If you act like a schmuck, you poison your own message.
And then, there's the matter of the message you're sending.  Biden blew it on Benghazi.  Hear the voice of the intelligence community here: http://www.breitbart.com/Big-Peace/2012/10/12/Intelligence-Community-Responds-to-Biden .
Or maybe the Vice President had been too busy preparing for his debate to read that day's Wall Street Journal.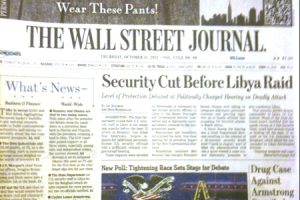 The final debate looms, with promises that President Obama will be more aggressive.  If he does it Biden's way, it will get interesting indeed.  Meanwhile, back in Washington, one wonders if Hilary Clinton, of all people, is prepared to take a career-killing hit for the Obama team on the Benghazi matter…or whether "gun control" issues and the whole "Fast and Furious" matter will make it into the final debate.
When those two nice Democrat ladies parted from my friend and I in the restaurant, we were laughing pleasantly with each other instead of at each other. Somehow, I don't think the next Presidential debate will come out so amicably.
Your thoughts?