If you've read my column in Backwoods Home Magazine for any length of time, you've noticed how frequently I've made the point that it's close to hopeless for a smaller person to try to shoot well with a gun too big or too long in the stock for them, and easier for a larger person to adapt to a gun that's too small.  Well, this past weekend, I was reminded that there actually is such a thing as a gun too small for the largest shooters.
I was at a Glock match in Orlando (www.gssfonline.com) with the usual suspects and three shooters new to this particular discipline. One of the latter was Vince Edwards, an accomplished shooter in IDPA (www.idpa.com) and a very competent firearms instructor. Now, back when Vince was a cop he carried his department's issue Glock 22 and shot it well, but as soon as he left the agency and was able to pick his own gun he chose a full size 1911 .45 automatic. You see, Vince stands six-feet-five, tips the scales past the 300 mark, and wears Size 15 shoes with proportional size hands. I've seen sausages in Polish butcher shops smaller than this guy's fingers.
Well, he'd been away from Glocks for a while, so he came out to our range to get the feel of things with some of ours, which he used in the subsequent match at the excellent Central Florida Rifle & Pistol Club. In just a few practice rounds for the Major Sub event, where you use a subcompact .45, his hands proved so big that the slide of my Glock 30SF drew blood from the web of his hand during firing. Not something you see with those guns every day.
Well, at the match, we all shot that same gun in Major Sub division. Worked for me. Worked for six-foot Jon Strayer, who kicked butt with it. Worked for five-foot-nuthin' Gail Pepin, current Florida State IDPA Woman Champion, who was the high female in Major Sub at the Glock shoot.  But when Vince shot it, there was jam after jam. It wasn't the ammunition: he shot the same factory round-nose, full power .45 hardball the rest of us were using.
Photos showed later that Vince, who shoots with the popular straight thumbs grasp (see below), had his humongous thumbs in proximity to the slide. All that we can figure was that the combination of the web of his hand making contact with the underside of the moving slide, and pressure of his thumbs against the side of the slide, was enough to retard the mechanism and prevent complete extraction. So, yes, there is such a thing as a pistol too small for the shooter's hands.
When my oldest was six, I bought her a Chipmunk .22 rifle, scaled down for kids. I couldn't sight it in for her, because my fat adult male head couldn't get down far enough on the child-size stock to bring my eye in line with the rear sight. (Talked the tyke through her own sight-in of her own rifle, though, and that worked out well as an educational experience.)
Bottom line: clothes that don't fit you, won't work for you, and neither will firearms that don't fit  you.
Arrow points to spent casing, yet muzzle of little .45 caliber Glock 30SF is still on target in the hands of 6'5″ firearms instructor Vince Edwards. Notice thumb placement vis-a-vis slide.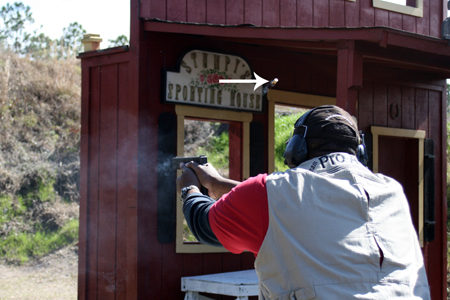 Here, in the midst of the shooting action, Vince works to clear a jam (arrow 1). Note how the flesh of his large hand is in contact with bottom edge of slide (arrow 2) and where cuts from slide have necessitated Band-Aids at web of hand (arrow 3). Glock considers the G30SF a "subcompact" gun. Vince does not have a subcompact hand.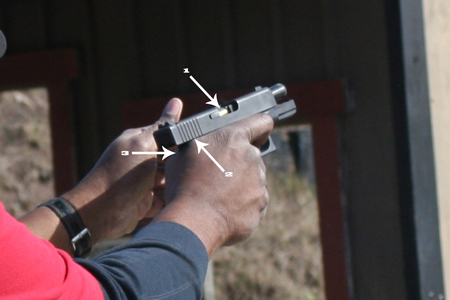 Gun performed flawlessly with same type of ammo for all others using it, including five-foot Gail Pepin. Note muzzle back on target, and ejected casing from last .45 round (arrow). Hands are not blocking the working parts in any way.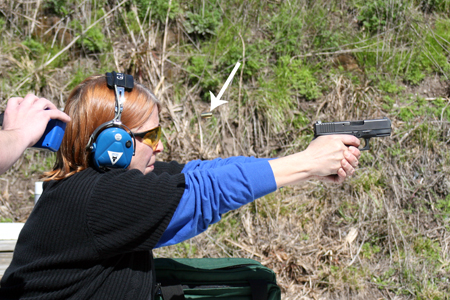 Another example. Child-size .22 Crickett rifle at Pro-Arms Gun Shop in Live Oak, FL is dwarfed in the hands of Roger Clark, who stands six-one-and a half and weighs well over 200 pounds…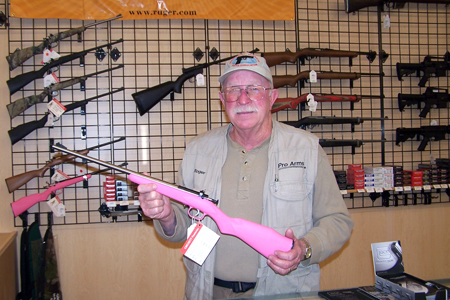 …and the gun is so small for him, Roger has a hard time even getting his eye down to where he can align the sights. However, it's easier for a man Roger's size to shoot the tiny rifle, than for a little girl to shoot a rifle sized for him.