THIN BLUE LINE: A GREAT CHARITY/SHOOTING EVENT FOR COPS
Last week, I had the pleasure of watching the second annual Thin Blue Line match in Anderson, South Carolina at the outstanding Skip-J range. It's a win-win event where armed citizens who appreciate their local police do something good for them, turning out to run a several-stage practical shooting event where the cops compete in realistic, simulated gunfighting scenarios with their on-duty service pistols…and the entry fees go to local charities.
It gives the street cops a chance to show that they care about the most disadvantaged members of society, who so often need their assistance in disproportionate degree. It gives law-abiding armed citizens a chance to better know the boys (and girls!) in blue who protect them while they sleep, and it gives society's designated centurions a better chance to get to know the self-sufficient Americans who are prepared to hold the line and take care of themselves until the folks with the badges get there.
Kudos to Ron Griffin and his team, mostly IDPA (International Defensive Pistol Association) shooters, who busted their butts to do something good for local charities and local cops.
I attended the eight-stage event (though I didn't compete: it was for the South Carolina cops), and it was a helluva good match. If you patrol rural areas or communities big enough to have their own airports, there's a chance you'll have to interdict a small drug plane on the ground. When was the last time you actually shot around one? They had an airplane set up on the range! See photos.
More than one shooting has taken place in or around an ambulance; after all, that's where surviving gang-bangers get loaded, and occasionally they're down but not out, or their counterparts come back to finish the job. When was the last time you fired live ammo inside an actual ambulance, at hostile threat targets both inside and outside? At Thin Blue Line, the cops got to do both.
What goes around, comes around. Lavish props donated for the police match remained on the range the Saturday after the Thin Blue Line shoot for the armed citizens of the local IDPA group to test their skills upon. A match entry fee is same cost as a medium-priced box of ammo; most of us would find that setting up these elaborate stages is impractical and unaffordable. However, training should be authentically replicated experience, and both Thin Blue Line and IDPA deliver that in spades.
Congrats to all involved in this exemplary effort! If you'd care to donate a prize for next year's match, or offer your services to help out on the range, or just get an idea of what's going on and maybe see about your club doing the same locally in the future, go to www.thinbluelinesc.org. For more info on IDPA and to find a club near you, go to www.idpa.com. Finally, a tip of the Backwoods Home shooting cap to the winning squad, Anderson County Team 1, and to the high overall individual shooter, streetwise police instructor Sgt. Heath Clevenger of the York County Sheriff's pistol team. And…a "biggest cojones" award to Sheriff John Skipper, who took time out of running for reelection to show his support for brother officers and armed citizens alike as he stood in front of an audience of 132 law-dogs and won the hard-fought, man-on-man "dueling tree shootoff" to prove himself the straightest-shootin' high sheriff in South Carolina!
County, state, and city cops joined together for the Thin Blue Line event.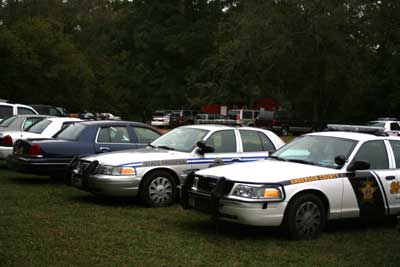 This officer fires on the move as he scoots between cover points on the "drug plane" stage. How's this for realistic scenario props?

Note flash at muzzle of duty Glock as this officer "repels boarders" from inside an actual ambulance, live fire.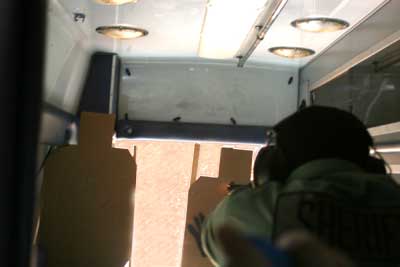 Winning team was Anderson County squad #1.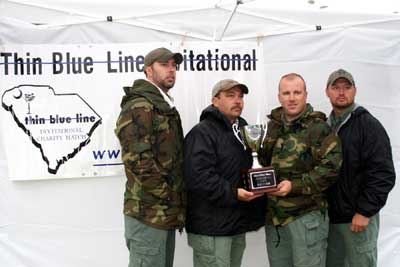 Flashlight is mounted on holstered duty Glock of Sgt. Heath Clevenger, high individual contestant.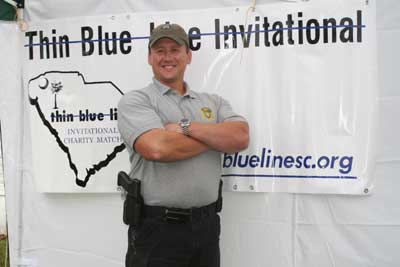 Sheriff Skipper, right, comes from behind to win dueling tree event for fastest/straightest shooting High Sheriff. At left is Sheriff Steve Loftis.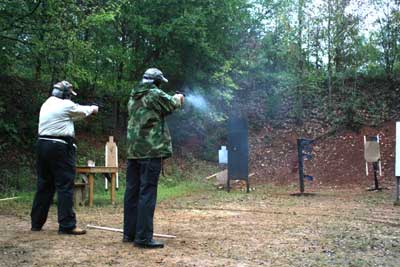 Sheriff Skipper took time out from running for reelection to show his support for both brother/sister law enforcement personnel, and armed citizens.