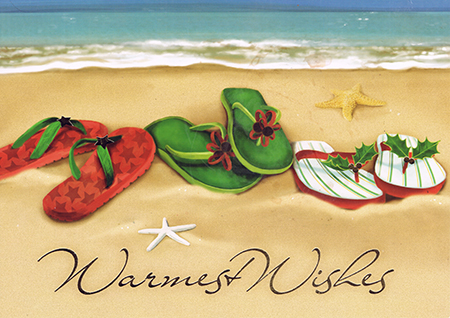 Weather.com tells me that the place I almost went for Christmas has a temperature of one degree Fahrenheit at the moment, with a wind chill of fourteen below.  Balmy compared to a friend's place in Montana, where the "real-feel" was forty below zero yesterday.  Having become a geezer for whom deep cold is actually painful now, my Christmas present to myself was spending it someplace warm.
 "This season, we're outdoors in shirts.
  "There's nothing to shovel, and nothing hurts!"
Will be touching bases on Christmas with friends less fortunate than we. One just lost his lovely wife of many years. Another will be in the hospital recovering from emergency surgery arising from complications following a severe heart attack.  Any season for counting one's blessings is a season to reach out to those in pain.
Whatever your belief system, whether Christmas is a religious touchstone for you or a secular cultural holiday, all on this end wish all on yours a Merry Christmas and a day of joy and peace.