Like most American kids, I thought Christmas was the cardinal holiday of the year. (Though Halloween was pretty close, which probably says something about me…) My parents always had a full-size evergreen in the living room and its decoration was a family endeavor and tradition. (Watering it regularly for fire prevention was a given.) That tradition continued when I married and my late first wife and I had kids of our own.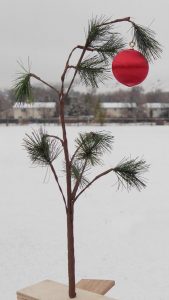 We got to where we harvested our own Christmas trees, and that became a tradition unto itself. One dark and particularly frigid December night, we got to the grove and realized that we had grabbed the wrong saw, a dull and rusty one.
Hell with that! I grabbed an Ithaca Mag-10 shotgun out of the car, and three rounds of 3.5" 10 gauge Magnum double ought buckshot later, the tree was down and on its way to the station wagon.
A score or so of years ago when the kids were grown, flown, and on their own, I downsized to a little artificial tree. It became my latter life tradition.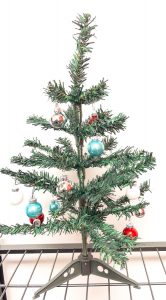 Shotgun harvesting of Christmas accoutrements has not been lost. My second and, she assures me, final wife has been known to harvest holiday mistletoe with the 20 gauge Remington 1100 I gave her for Christmas early in our relationship.
I pulled my now twenty-year-old artificial tree out this year and discovered that it was pretty much toast. I had waited too long to decorate for the holiday. A desperate search showed every place was sold out of decent small artificial trees. The exception was a dollar and a quarter kit at (appropriately) Dollar Tree, which was more an homage to Charlie Brown than it was to the spirit of Ol' Saint Nick. At the local Lowes, the small artificial trees were gone but we found a live arborvitae that would serve as a stand-in.
So…the Christmas tree arborvitae stands tall short in the living room, and the Charlie Brown Memorial $1.25 tree sits on a desk in our new downtown office. The arborvitae will get planted…somewhere … after the holidays.
But, enough about us. Gail and I wish you and yours the very best of holidays and the strongest and warmest of seasonal spirit. Feel free to share here your sentiments, and this being a gun blog, any guns you gave or got this year or earlier. 'tis the spirit of The Season. 