St. Louis gun expert Tim Mullin knows his stuff. I quoted a couple of his books in the first volume of "Massad Ayoob's Greatest Handguns," and more of it in the forthcoming Volume II, of which I've just reviewed the galley proofs (should be out this year).
Tim has just come out with "MAGNUM: The S&W .357 Magnum Phenomenon," published in the finest "coffee table book" style by Collector Grade Publications in Ontario (www.collectorgrade.com).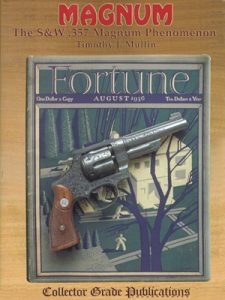 It's every bit as well researched as his previous book on the Colt National Match pistol, and the photos will induce at least the same high drool level among connoisseurs as did the latter book.
The big revolver and its ground-breaking new cartridge – "the gun that took the 'proof' out of bullet-proof vests," as it was advertised at the time – did much to popularize hunting big game with handguns.  Gun collectors know the ultimate "grail gun" was the very first "Registered Magnum," given by the company to J. Edgar Hoover, later to disappear into "a private collection" after his death. Well, grail hunters…you'll find a couple of pictures of it in this book. Hoover thought enough of the weapon to order several for the FBI, and many more agents bought their own, including legendary gunfighters Jelly Bryce and Walter Walsh.  Walsh, over 100 years old, is still with us, a living monument to the ideals the Bureau was meant to stand for.
Mullin delves deep into the history and the subtleties of this classic outdoorsman's revolver. He points out that the first gun expert to write about it in The American Rifleman did so without ever actually firing one. While Tim details the .357s that followed it – from Smith & Wesson, and from other makers – he focuses on the original .44-frame model, later designated the Model 27 series.  Its mirror-polished finish, its checkered topstrap, and its hand-honed action crafted by the company's most skilled artisans, made it a showcase of the finest American workmanship that could be applied to a firearm.
The $69.95 retail price is commensurate with super-high quality "coffee table books," and worth it for the details of Mullin's painstaking research. I for one enjoyed the heck out of it.
Is the classic Smith & Wesson .357 Magnum one of your favorites, too?  If so, come on into the comments section here, and tell us about it.