TO RUN AND GUN IN THE SUN
The Evil Princess and I just got home from a couple of ten-plus-hour weekend days training with Gabe White in a class hosted by Gordon Despot in Lakeland, Florida.  It hit 97 degrees both days, but we all still had fun and learned a lot.
Gabe's signature class is called Pistol Shooting Solutions.  His approach is succinctly summarized in his motto: "technical excellence supports tactical preparedness."  You can read about his background and see him in action in numerous videos at his website, http://www.gabewhitetraining.com/, but basically he has taken a lifelong interest and deep study of self-defense ranging from martial arts to guns to defensive force law, and combined them with his own extremely high skill in both shooting and teaching.
There are many talented communicators who don't really know their topic in depth, and many skilled practitioners who don't know how to teach.  Gabe is that rare combination of deep knowledge, demonstrable skill at a very high level, and the ability to communicate efficiently and articulately.  Unlike so many who proclaim, "This is The Doctrine," he gives a lucid explanation of every subtlety of every technique he shares.
It's not a class for beginners. You want a very solid skill level before you get there.  Master and Grandmaster shooters come to Gabe to hone the skills they've already developed, but he sees the biggest improvement in Class C through Class A shooters who seek higher levels of speed with accuracy.  Almost all the shooting (bring a thousand rounds) is two-handed, and every bit of it is eye level aimed fire.  The name of one of his most famous drills reflects his focus on the basics: "Sights, Meet Trigger."
Each day had multiple "shooter against shooter" drills, what he calls asymmetrical situations in which Shooter A is on one side of the replicated "fight" with one set of tasks, and Shooter B is on the other side, tasked with neutralizing targets representing Shooter A.  Incentivization is good.
I won't tease you with blow by blow details, but I'll say this: the EP and I have each won our share of state and regional shooting championship titles, and we both got a lot of value out of those two exhausting days with Gabe and the four cases of ammo devoured.  I think you will, too.  Highly recommended. Gabe recommends you use your defensive pistol and gives incentives to draw from concealment.
Here's Gabe making a point about shooting on the run, with his Gen5 Glock 17:

And here he is congratulating the top shot in class, Chris Kossman, right.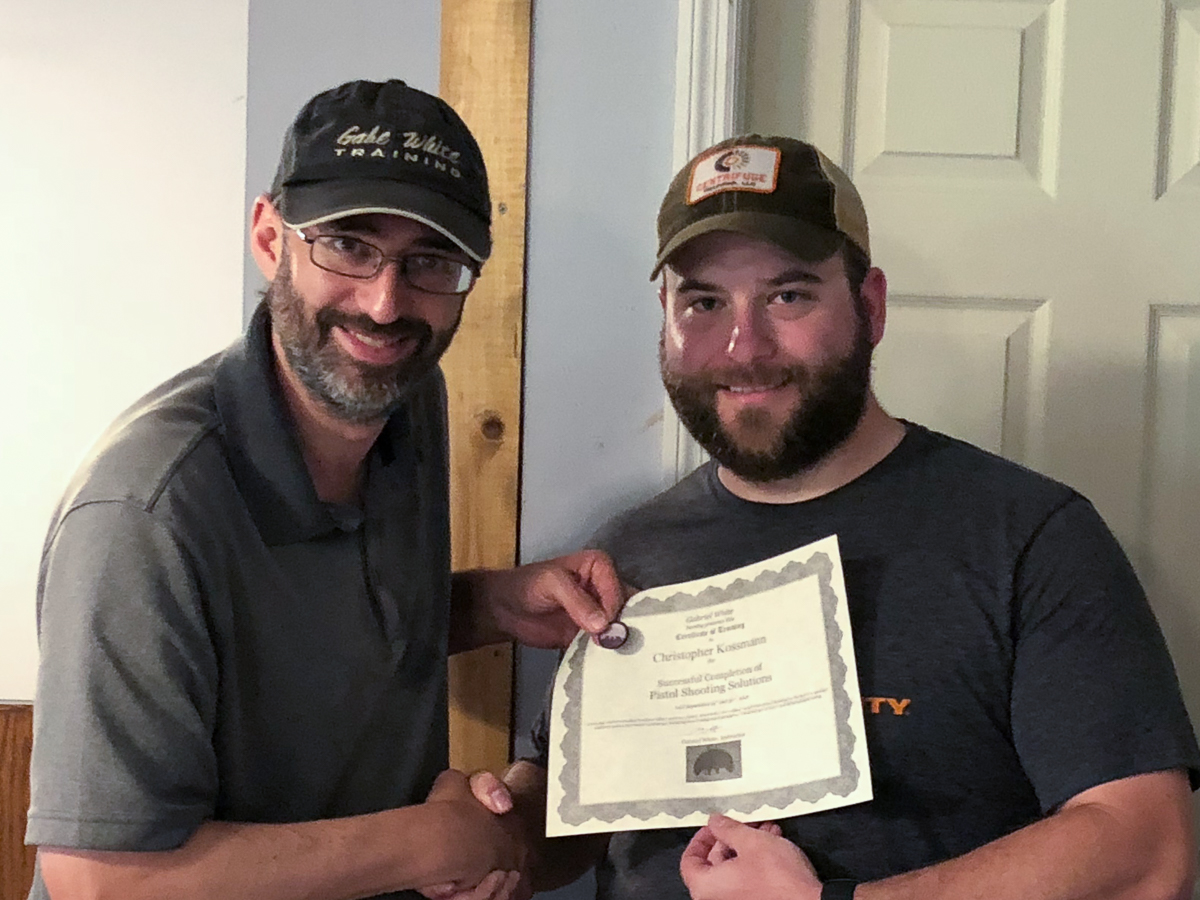 Class photo: Gabe limits attendance to 14 shooters per class.