Last week we completed a five-day Deadly Force Instructor class in Florida, graduating 21 future trainers on the topic.
Teaching use of force is my primary occupation. I love the "train the trainers" classes because they get needed information out to so many more people. The survey of the class indicated that in the next year, they'll train well over 5,000 men and women who keep or carry firearms for defense of themselves and their families.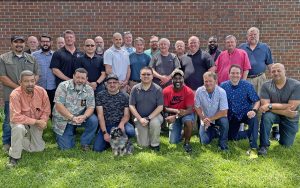 The teaching cadre consisted of Marty Hayes, former chief law enforcement officer and founder and president of the Armed Citizens Legal Defense Network; Dr. Art Joslin; retired police supervisor and SWAT cop Steve Denney; and me. Training hours tallied about 48.
The first two days focused on the details of the material. The third day revolved around teaching techniques and the importance of being able to back up the student who did what he or she was taught: testifying as an expert or material witness as to their documented training. Day four was entirely moot court in a disputed self-defense shooting scenario, complete with an actual currently-sitting criminal court judge.
On the final day, the instructor candidates instructed. A tough written exam completed the course. We were pleased with the evaluations we got back from the 21 newly minted instructors, among whom were five attorneys.
In training we sometimes talk about the "oil stain effect."  As a drop of oil spreads outward on a piece of linen, training the trainers spreads knowledge.  We learn something about tactics, skill set, or trial strategy.  We share it with another instructor. That instructor in turn shares it with their student, and in that third generation of the transmission the knowledge is applied, saving an innocent person's life and/or career and future.
It's one of the most satisfying things we do. This is our last one for this year, but we'll be doing at least two more in 2022.  If you're interested, keep an eye on my website, https://massadayoobgroup.com.