I'm spending this week at the High Liability Instructors Conference hosted by the Florida Public Safety Institute and Tallahassee Community College. Cops working alongside paramedics et. al., public servants who respond to dangerous situations with human life on the line.  It builds character doing that day after day, so you always meet quality people at gatherings like this.
I'm teaching each day, but in free periods I take every class I can. It ain't just about guns and bullets and smackin' folks. I caught an excellent lecture from Tania Penderakis, an expert in body language and detection of deception.  I've been studying body language and teaching it for years – in all the time I've been writing for Backwoods Home, the single most popular reprint request for one of my articles was the one on recognizing assaultive behavior cues – but this erudite lady is deeper into it than I am, and I picked up some new info from her. So can you, at her website, www.AthenaTraining.net.
Another great trainer I got to spend some time learning from is Michelle Santamaria, a prosecutor with the Palm Beach County, FL State's Attorney's office. Her advice to investigating and arresting officers on how to testify in court was absolutely spot on.
There's lots of gunfire on the range, and the cannon-like explosives from the class on breaching, and the mats are busy and sweaty in the Defensive Tactics center as police instructors drill on unarmed restraint of violent suspects, the latest in TASER training, and related topics.  But classes like Michelle's and Tania's remind us that The Job is about people more than anything else.
Comforting and reassuring the people who've been victimized, and helping to restore their peace of mind. Assessing, outsmarting, and bringing to justice the worst of the worst. Protecting your own when they're violently attacked, or falsely sued and slandered after they've fulfilled their oath to protect and serve.
A week like this rekindles the spirit. Any cops, paramedics, corrections officers, etc. reading this need to touch bases with the Pat Thomas Law Enforcement Training Center in Havana, FL which sets it up each year. The tuition is ridiculously cheap; they can put you up in police academy housing; and the training as absolutely top-notch.
The host facility is excellent.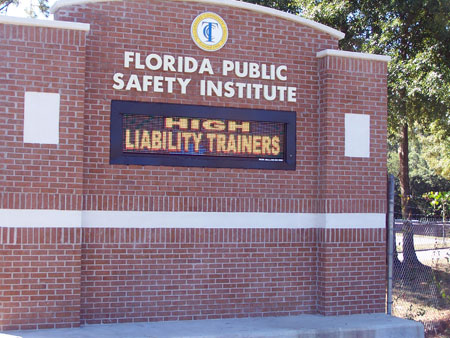 Penderakis is an expert on body language.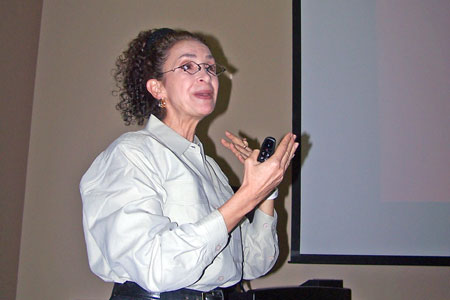 Santamaria lectures on principles of testimony for arresting officers.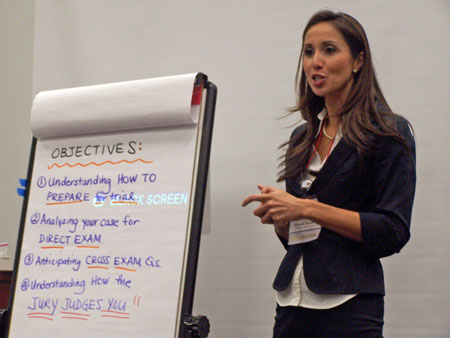 A class of baby troopers shares the facility with assembled instructors.