'TWAS A NEAR VEER, DEAR…
When Hurricane Dorian was drawing near
And looked as if it would hit right here,
I feared for the woman whom I hold dear
And even for our resident deer,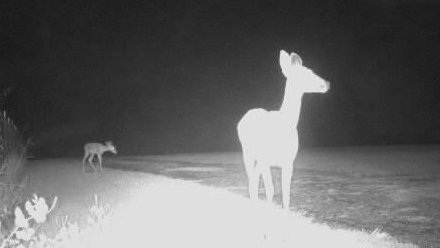 (Not to mention my own rear)!
We had food, and water, and meds, and beer,
Generator to AED – all of the gear,
And were ready to stay it out right here,
And prepared to bug out, if we had to get clear.
Fortunately, however, the storm did veer –
And we never had to shed a tear:
Preparation had still been the antidote to fear.
As Florida prepped for the monster storm, I kept hearing the term "worrycane." People terrified of a weather apocalypse. The long-time residents here in Hurricane Alley were wishing each other "Happy Hurricane" when we met at the store or the post office. Sometimes practicality just sounds fatalistic.
The Evil Princess and I had been through these before, and had discovered that for the prepared, it was more of an adventure than a disaster. We were prepared. Fortunately, we didn't have to experience adventure or disaster.
Backwoods Home – the magazine, books, the website, the blogs like this one, and indeed the whole concept – were built on the foundational value of self-reliance. Of individual ability and freedom combined with a sense of community. Click back to the blog entry that immediately preceded this one here, and look at how many helpful blog readers responded to one person's request for information on survival prepping. At the risk of cliché, "It's what we do here – it's who we are."
Thoughts and prayers to those in the long and brutal path of that terrible storm who were not so fortunate as the Evil Princess and me, and to all those who helped those in need.
Here's a cute evacuation notice from a satire site: https://babylonbee.com/news/residents-of-florida-urged-to-evacuate-not-because-of-hurricane-but-just-because-its-florida