I recently read two books I'd like to share with you.  When I first saw Rory Miller's work, I thought "Here's a guy who has been there, done that, and makes sense." That impression was reinforced later when I met the man and had a chance to talk shop with him at some length. His long background in Corrections has exposed him deeply to "the face of the enemy," and given him much real world experience within which to correlate his extensive background in the martial arts.  Rory got together with Lawrence Kane to write "Scaling Force: Dynamic Decision-Making Under Threat of Violence" (YMAA Publication Center, 2012).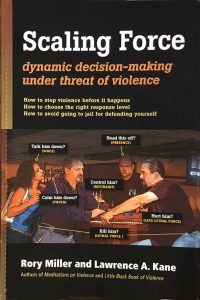 The first half of "Scaling Force" is a well-presented overview of the nature and psychology of physical violence.  The second half goes through the old six-step force continuum, at each point explaining how things work with lots of examples from real life cases.  Level 1 is Presence: how not to be the you-know-what who inadvertently starts a fight, and how to make it clear to a predator that you are not prey. Level 2 is Voice, and the authors do a superb job of presenting vocal de-escalation tactics whether it's a family gathering that becomes argumentative or something more serious. Level 3 is touch, from calming influence to redirection. At Level 4 things get more serious with empty hand restraint and physical control. Level 5 is Less-Lethal force, from hard blows to potentially neck-breaking holds to pepper spray and the TASER™.  It tops out at Level 6, Lethal Force.  All is presented with logic and understanding of both law and ethics.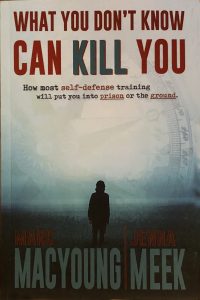 Marc MacYoung and Jenna Meek are old friends of mine, and together they wrote "What You Don't Know Can Kill You: How Most Self-Defense Training Will Put You In Prison or In the Ground" (Carry-On Publishing, 2018).  Jenna teaches firearms along with her husband Jeff, and Marc is famous for his books on hand-to-hand fighting, the use of the knife, and related topics. Together they make it clear that on one end of the spectrum, "Just let the criminal take what he wants" is poor advice if what he wants to take is your life. They make it just as clear on the other end of the spectrum that the common martial arts "dance of death" sequence in which you stomp on your opponent's neck after he's down and out can end with you having some very unpleasant experiences in the prison showers.
Each of these books would make a useful gift for many in your life, particularly those lovable friends and relatives who think the world is full of moonbeams and butterflies and that people who would harm innocent others are creatures of a paranoiac's imagination.