In my last blog entry, I talked about getting ready for a police combat shoot in New Hampshire. That match is history now, but as usual, I learned some things.
Driving to NH from the south, my adult supervisor and I stopped at the excellent Skip-J shooting range in Anderson, South Carolina to shoot in their annual Glock shoot under the GSSF (Glock Sport Shooting Foundation) system. I hadn't practiced for the event and shot for the heck of it. Used a Glock 17 9mm and scored, well, "a gentleman's C." But then I entered the Major Sub event, and whattaya know…I won it.
"Major Sub" means large caliber subcompact pistol. I had my favorite Glock along, a G30. This is the carry-size, eleven-shot semiautomatic in caliber .45 ACP. However, it had a grip trimmed down to better fit my hand, and I'd forgotten that this feature was not allowed by GSSF rules in a stock gun category. An old friend lent me his G30SF, the new Glock .45 that is essentially the Glock 30 factory-produced with a gripframe that has a smaller than standard measurement front to back. His pistol was perfectly sighted in for me with Winchester 230 grain .45 hardball ammunition, and a high visibility Ameriglo front sight. Kewl! Sometimes, things just work out.
The NH shoot was another story. The course of fire was not announced until we were on the firing line. It was slower shooting than expected, and at longer range. I had been practicing for this particular tournament, but at a faster pace and on a bright, sunny range in the southland. A light rain was falling on match day, and the flat black target in the gray gloom did not give me good contrast between the front sight and the target…and I got sloppy. The first string of fourteen shots (seven, reload, and seven more with my department issue Ruger .45 auto) went to the right of point of aim. Decent group, but in the wrong place. The group was centered between the nine- and eight-point rings, and one drifted into the seven-ring. After we got in to the fifteen yard line, I only dropped one more shot out of the ten ring, and put a couple dozen into the tiny X-ring in the center, but that was too little too late.
I found a bright spot in the day, though. Rangemaster Russ Timmons announced that the overall winner was Stephanie Howland of the New Hampshire Department of Corrections (DoC). I can remember when Steph started shooting the match, a few years ago. She was not happy with her finish the first time. Instead of just slinking away, as so many people do when their first competition doesn't find them at the top of the list, she resolved to train harder. Each succeeding year, she placed higher and higher.
And this year, she placed top overall, the first time a female officer has done so in the history of the Association, to my knowledge. She also led a DoC sweep, with her colleagues Perkins and Snyder winning the championship team honors. Congratulations, Stephanie!
Stephanie Howland's perseverance, focus, and determination make her a role model for both genders. All things considered, I'll take the inspiration she gave us all to a trophy, any day. Inspirations are a lot harder to come by than trophies.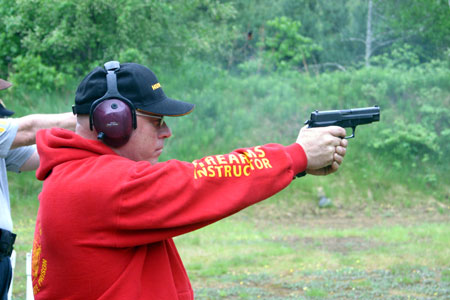 Spent 9mm casing flies from the SIG P226 pistol of Ernest Perkins as he leads his team to victory at the NH Police Association state shoot of 2008. Fellow Dept. of Corrections shooter Stephanie Howland won the individual shooting championship.