A book about people being killed seems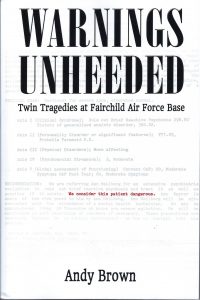 incongruous with the holiday season. Yet a book about saving human lives is a natural part of a celebration of human spirit. "Warning Unheeded" by Andy Brown lands squarely in the latter category.
In 1994 at Fairchild Air Force Base in Spokane, a former Airman turned mad dog killer ran wild with an AK47 clone until he was put down by a courageous Air Police officer. Under fire from the crazed rifleman at a distance of 70 yards, Andy Brown coolly dropped him with two 9mm hits from his Beretta M9 pistol, and stopped the murders. In retrospect, many believed that the slain gunman's growing psychosis had gone without timely treatment or institutionalization, despite accumulated warning signs.
In a close timeframe, a senior pilot with an increasing reputation for recklessness crashed while attempting aerobatics with a B52, killing himself and other USAF personnel. Once again, obvious signals had not been acted upon by those in authority, with tragedy resulting…thus, the title of "Warnings Unheeded."
In juxtaposing and documenting these two tragic events, Andy downplays his own courage. He presents a dispassionate and even sometimes sympathetic portrait of the men responsible for the deaths of the innocent.  In macrocosm, "Warnings Unheeded" teaches us all graphic, object life lessons.  It is in microcosm, however, that the gun element comes into things.
From President Obama down, anti-gun people have publicly scoffed at the idea of a single armed "good guy or gal" stopping a mass murder, sometimes flatly (and falsely) saying it has never happened.  Au contraire. "Warnings Unheeded" is to my knowledge the fourth book written by someone who shot down a mass murderer and ended the slaughter. Two armed citizens have done so. Read "God, the Gunman, and Me" by Jeanne Assam, the volunteer church security person who cut down the mass killer at a Colorado church, or "Shooting Back: the Right and Duty of Self-Defense" by Charl van Wyk, who alone with his 5-shot .38 revolver ended the mass machine gun and grenade attack on a church by a squad of guerrillas. And don't forget "They Call Me Ranger Ray" by Ramiro Martinez. He was one of the cops who killed Charles Whiteman atop the Texas Tower in 1966, led to the top of the tower by armed citizen Allen Crum. Martinez states flatly in the book that it was return fire from citizens with rifles on the ground who pinned Whitman down and stopped the killings until he and brother officer Houston McCoy could ascend the tower and fatally shoot the gunman.  "Warnings Unheeded" joins these classic first person accounts of heroism prevailing over mass murderers.
I was deeply honored when Andy asked me to write the foreword for this book. I think you will be moved by it, and educated by it, as much as I was, and so will anyone to whom you give this book for Christmas. "Warnings Unheeded" by Andy Brown is available on Amazon.

Or watch Video Here.