Every now and then, a firearm surprises you with more accuracy than its genre is generally thought capable of producing. Bill Ruger brought out his first firearm, the low-priced, high functioning .22 semi-auto that would later become known as the Standard Model, in 1949. It became immediately apparent that it was WAY more accurate than its $37.50 price tag would have led anyone to expect. A high quality barrel rigidly fixed to a tubular receiver, and sights rigidly fixed to both with no movement during cycling, accounted for much of that. Soon Ruger brought out the same gun as a dedicated target pistol, the Mark I (for $57.50 if memory serves), and circa 1953 my late, lamented friend Jim Clark, Sr. won the national pistol championships with it at Camp Perry. Jim, a decorated sniper in the Pacific Theater in WWII, was long since out of the military at the time, which made him the first and, IIRC, the only civilian to ever win the overall national title. The rest, of course, was history: Ruger .22s have been a staple on competitive firing lines ever since, and Bill's firstborn is now in its fourth generation.
I was reminded of "guns that shoot above their weight class" this week.  This is the time of year when I take a few weeks sabbatical from teaching to attend to personal affairs, get ahead on writing deadlines, and this year, to have eye surgery.  Among my Christmas gifts was a case of ammunition from the Evil Princess, one of my old favorite rounds that I wanted to get reacquainted with, Black Hills' 200 grain lead semi-wadcutter in caliber .45 ACP.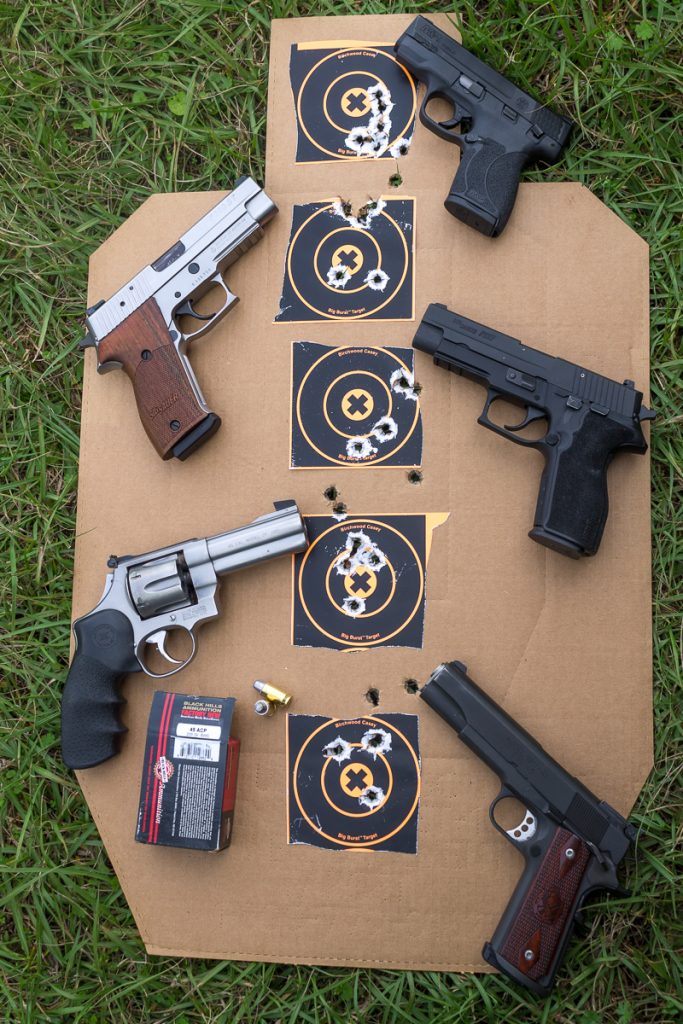 I took it out to my range with five handguns I particularly like, whose manufacturers don't disapprove of all-lead bullets (which are not too compatible with polygonal rifling). Two of these .45s cost well into four figures, a couple more go for a little under a grand, and one of them retails for under $500.
Guess which one shot the best?
It was only one go apiece, six shots per at 25 yards, but the cheap little Smith & Wesson .45 Shield shot the tightest group. See photo.
This is a lightweight concealed carry/off duty/backup pistol, but on that occasion it outshot two dedicated target handguns and two competition-grade service pistols. I shouldn't have been surprised. When I tested it for GUNS magazine back in 2016 right after the .45 caliber version of the Shield came out, with Remington 185 grain jacket hollow points it gave me a five-shot group measuring 1.45 inches, with the best three of those in .30" measuring center to center between the bullet holes. It shot to point of aim, too, as it did with the 200 grain Black Hills.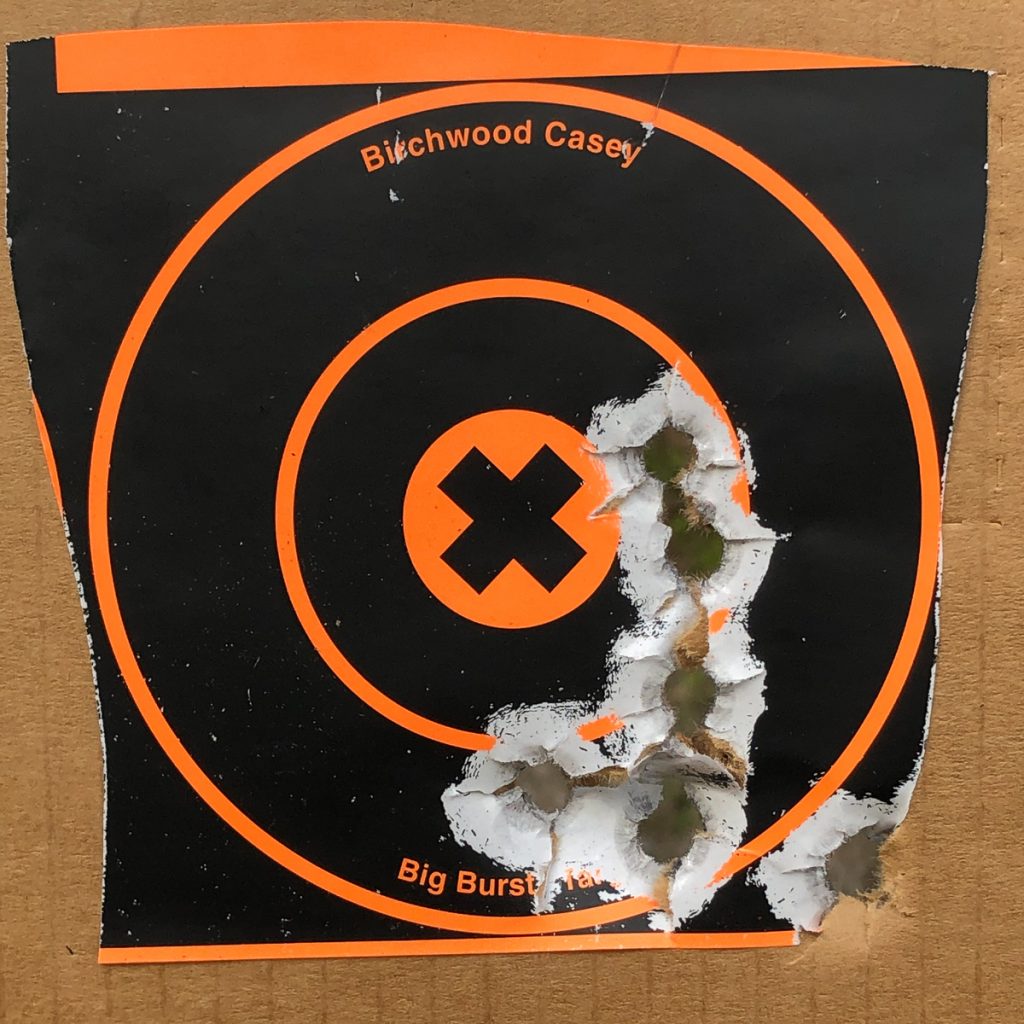 I own Shields in all three of their "service calibers," and have tried the .380 version, called the "EZ" because its slide is so easy to rack. The .380 has the least recoil, of course, closely followed in that by the 9mm, but the lightweight polymer frame Shield is remarkably light in recoil with .40 and .45. I find the latter two about equivalent in that respect.
---
It's not the first time I've seen a gun "shoot above its weight class."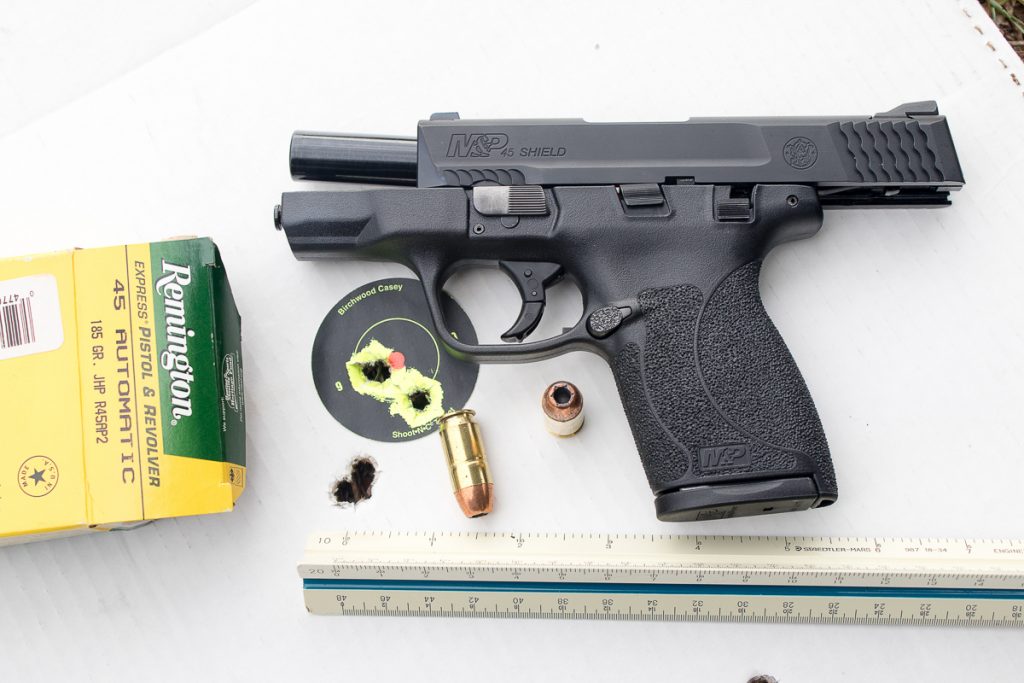 Sometimes it's just a very well-designed firearm for its price: I remember the budget-priced Savage 110 bolt action hunting rifle often outshooting its pricier, more famous competitors, the Winchester Model 700 Remington 700, and Ruger Model 77.  I also remember on sighting-in days seeing hunters who were more accurate standing and shooting offhand at 100 yards with their iron-sighted lever action .30-30 than their scoped bolt action .30-06.  It was counterintuitive, and I think for the most part the reason was that in a standing position, they got less wobble with a 6.5-pound carbine than an 8.5-9 pound scoped rifle, and were less disconcerted by their iron sight picture than by the wobbling they saw in the magnification of their telescopic sights.
But, enough of my commentary: I invite you to share what YOU'VE seen with smaller/lighter/and/or less expensive guns shooting "above their weight class."