I don't think it's coincidence that Veteran's Day and Thanksgiving take place in the same month.
I recently read "Hell's Guest" by Col. Glenn D. Frazier. Frazier had been a conflicted mid-teen kid in the Deep South when he lied about his age and enlisted in the United States Army shortly before WWII. He was stationed in the Philippines when the "balloon went up." Abandoned, he and his buddies fought fiercely – Frazier having had to kill in hand to hand combat with a knife – before the American forces were overwhelmed.
Young Frazier was one of the survivors of the infamous "Bataan Death March," and endured nightmarish captivity as a POW for the entire war. Afterward, he suffered Post Traumatic Stress Disorder before psychologists were using the term.  He fought through it with the same courage and character that had seen him through so many near-death ordeals, to become a role-model member of The Greatest Generation who even today helps others to cope with life crises.
You can read about it in "Hell's Guest," and can find ordering information for this inspirational book at www.hellsguest.com.
I got my copy when my old friend Steve Sager had the privilege of meeting Col. Frazier at a book signing, and was kind enough to snag me one.  Steve, recently returned from Iraq and Afghanistan, found Col. Frazier's insights most memorable – and most timely — in talking with him. After reading the book, I envy Steve the opportunity to meet this exemplar of American character.
Remember Col. Frazier and the many like him of all generations, who made it possible for us in this coming week to sit down at the annual feast where we Give Thanks.  And don't neglect the current generation, who won't be in comfortable American dining rooms to share the holiday because they're in the desert and the mountains, in deadly danger, representing their country.
An inspiring book.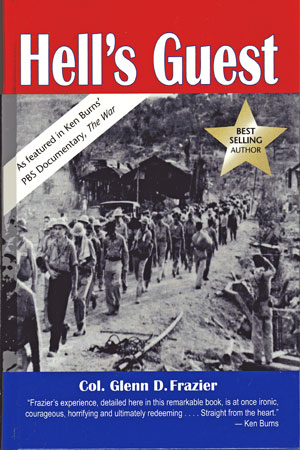 Col. Frazier, right, with Steve Sager.