A comment on this blog doesn't usually turn into a blog entry, but it happens. Kinda like, as follows.
Someone who goes by "s" posted this as a comment to the last blog entry here:
Once again, Ayoob lies and creates evidence from thin air when it suits him. In his pathetic apology for the anal rape and torture of man, Ayoob conjured up a "duty of care" (to rape a man!) with zero evidence. Now he lies that members urged JPFO to die rather than accept the SAF takeover. Bullshit. I repeat: bullshit.

There were several parties who attempted to contact the JPFO board. They had alternatives and funding to back up their plans. The tiny August shortfall (roughly $1000) was easily covered; they people had 5-figure sums ready and waiting to be put to use. Ayoob dismisses these attempts at constructive engagement as "vitriol," and any alternative to a takeover by the organization he represents as "clamored for JPFO to "die with dignity."

Like the anal rape case, Ayoob creates a new reason that had never before been mentioned. Now his self-interested position as an SAF board member is to preserve the JPFO literature.The more likely outcome is that Gottlieb and his lackeys will suppress and attempt to shove the more strident JPFO work down the memory hole. It's too uncompromising, too principled, too harsh.That attempt will fail. Neither Gottlieb or his lackey Ayoob can understand what has happened, and what will happen. The materials have already been preserved, by the people SAF and Ayoob love to hate. Watch for SAF attempts to suppress them via claims of copyright infringement. If there was any merit to Ayoob's testilying, SAF would welcome all attempts to publicsize Zelman's legacy. But since the truth is that the only prize is the JPFO mail lists, more grists for the for-profit Gottlieb mass mailing machine, that will never happen.
"s," I will respond to your rant point by point, in order.
You started with the New Mexico case awhile back where you and others accused cops and docs of rape when police transported to a medical center a man they believed had stashed drugs up his butt.  I pointed out that anyone who works a patrol car OR an emergency room knows of people who've died from doing that. The cops brought him in, the docs did the colonoscopy, and I said we should wait to hear from the cops and the docs themselves why they made the decisions they did.  All these months later, those answers still have not come out.  I won't make a judgment until they do. You, and those like you, are perfectly ready to form a lynch mob after hearing only one side of the story. I'm not, and I won't apologize for that.
"s," you write, "Now he (Ayoob) lies that members urged JPFO to die rather than accept the SAF takeover. Bullshit. I repeat: bullshit."
The BS is on your end, "s." I don't know whether you deliberately lied, or whether you simply spoke from ignorance, but consider the following:
MamaLiberty, 9/1/14, at Claire Wolfe's blog "1016" comments: "Nothing is forever, obviously. Seems to me an honorable death of the organization is preferable to what may become of it now… but we were not given a choice in the matter."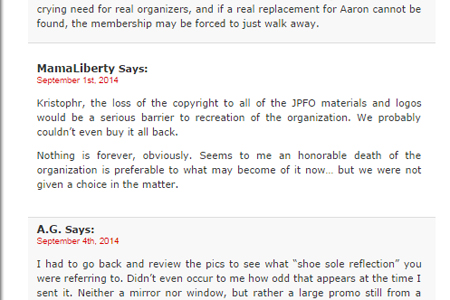 J. Eric Andreasen, 8/22/14, at Claire's original blog entry on the topic, comments: "Claire, this is simply horrifying. Gottlieb is a KAPO, plain and simple. Better to burn JPFO to the ground and start anew."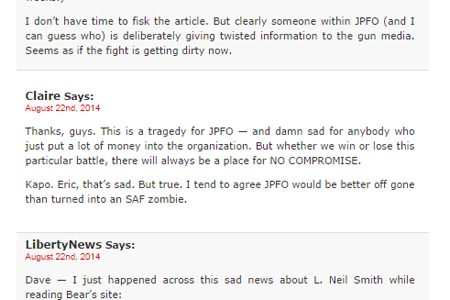 On the same day in the same blog, Claire herself commented: "Kapo. Eric, that's sad. But true. I tend to agree JPFO would be better off gone than turned into an SAF zombie."
"Kapo." A term for Jews who were suborned by the Nazis and led other Jews into the death chambers.  A supreme insult to any Jew, particularly the one who just saved Jews for Preservation of Firearms Ownership from oblivion.  And your folks don't spew vitriol, huh, "s"?  You say I'm wrong for imputing vitriol, yet in your own post you spew words like "lies," "evidence from thin air," "bullshit," "lackeys," and "testilying." Can you spell i-r-o-n-y?  Or, h-y-p-o-c-r-i-s-y?
The record shows that JPFO came to SAF, not vice versa.  I think the coming months will see JPFO and its message stronger and more widely known than before…no thanks to you and those who think like you.  SAF will spread JPFO's core message and research to a public that desperately needs to hear it, while you're still hiding behind your cowardly internet anonymity, spewing your venom at people who've done more for gun owners' civil rights than you ever have or will.