2020 having been what it's been, I'm more ready than ever for gift-giving season and a bit of cheer.  One suggestion: some well-designed clothing from the SCOTTeVEST company.
I met Scott Jordan several years ago. He parlayed a brilliant idea – clothing with multiple discreet pockets – into a unique and successful place in the garment industry.
Nothing is more current and fashionable, unfortunately, than masks.  The SCOTTeMASK has a gaiter-type mask with (a) interchangeable filters (b) an insert point for straws (in the corner of the mouth to get past the filters if you don't want to take the mask off in a restaurant or crowd), and (c) a place for earbuds/AirPods and even a place to keep a credit card handy.
Today, for example, I was wearing a long-sleeve pullover shirt QZIP and ultra-light jacket Tropiformer with more than enough hidden pockets, and was perfectly comfortable in 40 degree weather. I think my favorite Scott-E garment is a quilted jacket that's way warmer than its light weight and limited bulk would indicate, and which compresses for folding in luggage to allow maximum utilization of space.  Ultra-light .380s and .38s hide well therein, too.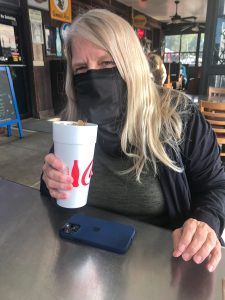 The Evil Princess' favorite SCOTTeVEST product is the namesake one, preferring the men's vest because it's a little longer for concealment. The lightweight vest has concealed Glocks from subcompact to full size on her five-foot-tall frame, and looked good doing it. In the photo, she's wearing the Maddie Cardigan which is great for travel and cool weather.
Product descriptions and order info can be found at https://www.scottevest.com/ . If you don't know the exact sizes for the giftee, I'm sure a gift card is do-able.