Minnesota's two seasons: winter and getting ready for winter!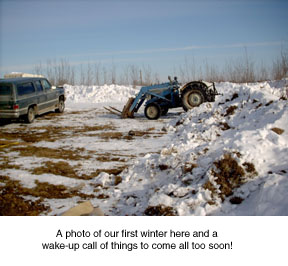 It's been said that in Minnesota we have just two seasons, winter and getting ready for winter.  We smirk when we hear that, but it's kind of true, especially for us who live in the backwoods.  When you have livestock, plow a mile + driveway, heat and cook largely with wood, have orchards, plants and fruits to protect, you really need to start preparations way before cold winter hits.
For us, planning starts at spring breakup but the hurry scurry of actually doing a lot of this happens this time of year.  We've actually had two snowfalls already, although neither of them stayed on the ground.  But it's definitely coming.  All too soon.
So the serious business of getting ready is going on daily here.  I've got to build an insulated short well house, covering our well casing; we've had frozen water because the cold went down the steel, freezing the water line, 8′ down the pipe two years running now.  THIS year we will have an insulated covering over it.  And I'm also planning on pulling the water line and drilling a weep hole in the pipe, below the pitless adapter, which is an L going toward the house through the steel casing.  This will let the water run out of the pipe after the pump has been turned off.  I haven't done this yet as we've needed maximum water pressure to water the gardens, but now the gardens are pretty much done and I really do not want to face another session of frozen water line!
Being off grid and having a buried water line over 100′ long, having a heat tape or leaving the water just trickling all the time won't work here.  We only turn the well on twice daily in the winter to help prevent freezing, water the livestock and fill our 350 gallon poly tank in the basement.  Here's hoping!
We're splitting dry firewood in earnest now, too.  I'll be filling up the porch part of our new greenhouse/porch with the wood to keep our wood kitchen range nice and cozy all winter and having DRY firewood right out the back door is definitely a plus.  I don't like wading through deep snow during a blizzard to bring in armfulls of snowy, wet wood.  Oh no.  Been there; done that.  No thank you!!!
And soon we'll be stacking up winter hay that has already been bought but is sitting high and dry at two farms.  The square bales for the goats will be stacked up and tarped like we did last winter, to use when the snow gets deep.  The big round bales will be rowed up down in the horse pasture for self feeding.  (The deer really like that arrangement!  But oh well, they're livestock we don't have to house or shovel poop for.)
I'm bringing in a few flowers for our new winter greenhouse; begonias, a geranium, a planter of fancy hens and chicks and a few of my nice petunia hanging baskets that I just can't let die….just for color.
Daily, I'm picking up tools and taking them into the generator shed.  If you don't you won't see them until April of next year!  The hoses go into the basement; you never know when you'll need an unfrozen hose for fire fighting or (shudder) running water from the well or the truck water tank if the water line freezes.
The chicken coop is nearly weather tight and insulated, but I've got to work on the roof of the donkey/goat shed.  One side is finished; the other is crap.  Have the material; don't have the time or help.  I can't leave Mom alone too long and David is not only in school but is playing football, with practice every night and two games a week….then there's karate and youth group at church on Wed nights….  David?  David who????  Oh well, it'll get done one of these days.  I've learned not to get nuts about these things.  Most of the time….
The geese are calling and we pause to watch flock after flock sail down onto our ponds every evening and fly off again in the morning mist.  They know too and feel the need.  Hurry!  Hurry!  they call.  I feel like calling with them.  I know!  I know!
Readers' questions:
Kosher pickles turning blue
I'm canning kosher pickles. My garlic is turning a bit blue. I didn't have enough white vinegar, so I added the rest with cider vinegar. I've canned pickles before with just cider vinegar. Do you know why this happened?

Michelle DePietro
Valley Spring, Caliornia

This happens because of natural chemicals in the water, vinegar or garlic itself.  Some folks have remedied this by using distilled water for pickling.  Personally I just don't worry about it as it doesn't affect the taste of the pickles.  But if it does bother you or if it gets real bad, you might consider this.  Blue garlic?  Kind of cool, I think!  — Jackie