Do you ever hear those little voices??
No.  I'm not going nuts.  I'm talking about that inner voice….or is it an angel whispering in my ear?  Like two nights ago.  I saw that the wind storm we'd had blew a small tree on the upper part of my garden fence as I dug carrots.  "You'd better fix that fence…."  But I swept that voice away.  Not enough time.  I'm too busy.  The deer won't jump the fence now that most of the garden has been harvested.  "You'd better fix the fence…."
Yeah, the garden had pretty much been harvested.  Except my huge rutabagas, a row of parsnips and some assorted onions.
I didn't fix the fence.
Then yesterday I went down to finish up the carrots and there was a partially chewed onion between the two rows of closely planted carrots.  It wasn't there yesterday….  I glanced at the ground.  It was covered with fresh deer tracks!  Oh crap!
It was about then that rutabagas came to mind and I glanced over to where the row was.  Now the leaves were as tall as my waist and some of the 'bagies were the size of a soccer ball.  What?  I saw NO leaves.  And I remembered the voice.
I walked over to the rutabaga patch and there were no leaves, only glimmering white….  Yeah.  The white was rutabaga flesh where Bambi had gone down the row and chewed vigorously on each and every one.  There had to be several deer because just one couldn't have eaten that much!  I should have pulled them a week ago.
I should have listened to the voice.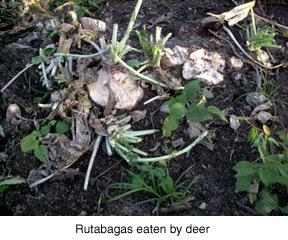 Those rutabagas would not store over winter, chewed on like they were.  So to save them, I spent the afternoon canning rutabagas.  Although canning manuals say that rutabagas become strong tasting and darken in storage, I haven't found them to do this.  I do pour off the canning water when I heat them to use, heating them in fresh water.  But I hadn't planned on canning them at all.  Oh well.
By the way, I did fix the fence.  I still have a few carrots, that row of parsnips and some onions.  And Bambi and friends would eat every one.  At least I have the satisfaction of knowing we'll harvest at least one very well fed, rutabaga flavored deer this hunting season!
Readers' questions:
Spaghetti sauce with romano cheese, vodka, cream
My spaghetti sauce has aged romano cheese in it. Can I can the recipe? And my spaghetti sauce with vodka and heavy cream — may I can it or will I kill my family?
Janet Longo
Round Lake Beach, Illinois

If I were you, I'd just make a plain spaghetti sauce, then add your romano, vodka or cream just before you make your batch of spaghetti.  I have canned cheese, but never a mixture containing cheese.  I have canned different products containing milk or cream and have not been happy with the results; they tend to appear "curdled", which looks unappetizing to say the least.  Yep, I'd make the plain sauce, then tweak it as you are getting ready to use it.  I think you'll be happier with the result.  — Jackie